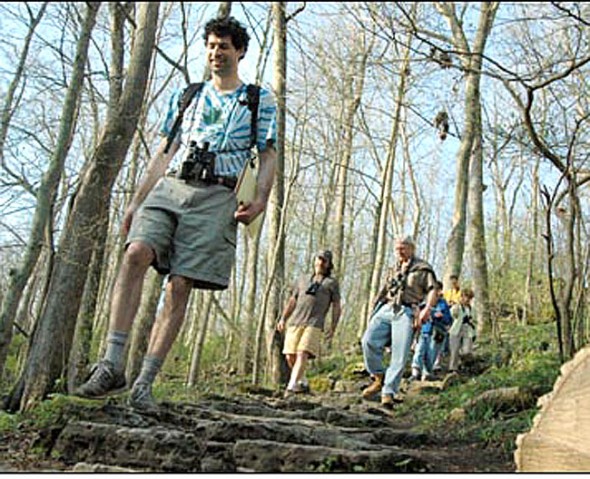 Commune with nature without harming it, or yourself
It is possible to enjoy the great outdoors without harming nature or yourself in the process. And using Yellow Springs' backyard as the training ground, Glen Helen will host a one-day course this month to teach participants how to hike, camp and administer basic first response to someone in need on the trail.
Wilderness educator Mike Stahlman will lead a Leave No Trace workshop on Saturday, July 28, from 8 a.m. to 6 p.m. Using the Glen Helen Building for classroom instruction and the Glen for field training, the all-day course will equip participants with survival basics, including how to prepare ignition sources, creating simple shelters, and finding and purifying water. The course will also cover first responder skills such as basic stabilization and post-shock treatment, and fabricating stretchers and splits from scratch. By the end of the course, participants will be certified as Emergency First Responders in CPR/primary & secondary care.
Leave No Trace is a set of techniques designed to minimize the recreational impacts of outdoor enthusiasts. The seven principles of Leave No Trace are plan ahead and prepare, travel and camp on durable surfaces, dispose of waste properly, leave what you find, minimize campfire impacts, respect wildlife, be considerate of other visitors, and show no signs. The Leave No Trace Center for Outdoor Ethics is a nonprofit partner of the national parks, forest, fish and wildlife, as well as the U.S. Army Corps of Engineers and the Boy Scouts.
Stahlman teaches Emergency First Response and American Heart Association classes as well as SCUBA diving certification and a first aid course at Hocking College. He is trained as a Wilderness EMT and a U.S. Coast Guard Medical Person in Charge, and has extensive experience training others for vertical rope rescue, rigging and rappelling. He has led Leave No Trace Expeditions in West Virginia, Georgia, Ohio and North Carolina, and is also a Master Scuba Diver Trainer.
To register for the workshop by July 13, e-mail bbryan@glenhelen.org or call the Glen at 769-1902. The course fee is $175, $150 for Glen members, and includes kit and certification. Participants are asked to bring a brown bag lunch, and dress for strenuous outdoor activity. There is no rain date; course proceeds rain or shine.