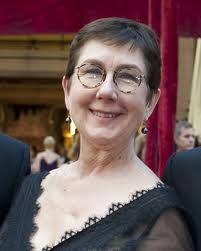 Reichert honored for lifetime achievement in film
At a ceremony at the Neon Theater last Saturday, FilmDayton presented filmmaker Julia Reichert with a lifetime career award for excellence in film making. Reichert was recognized for the body of films she has made during her 30-year career as an artist, teacher and activist. FilmDayton presented this one of three new awards to cap last week's annual film festival.
Reichert, who says she is an activist first, began her work as an Antioch College student in early 1970s wanting to comment on women's issues. Her first film, "Growing Up Female," which she created with fellow Antioch student Jim Klein, was the first feature documentary of the modern women's movement. It was selected this year as one of 25 American films to be added to the National Film Registry.
Soon after they made their film, Reichert and Klein started New Day Films, a distribution cooperative, to launch it. They then used New Day to help with their next two films, "Union Maids" and "Seeing Red," which were both nominated for Academy Awards for best feature documentary. Reichert continued to work with Klein teaching in the film department at Wright State University, while she worked on other films as well.
Reichert co-wrote and directed the feature film "Emma and Elvis," and produced the feature "The Dream Catcher." Then in 2005, "A Lion in the House," a documentary about children with cancer that she and partner Steve Bognar had worked on for eight years, premiered at Sundance Film Festival. The film went on to screen nationally on PBS, it was nominated for the Independent Spirit Award and it won the Primetime Emmy for "Exceptional Merit in Nonfiction Film making." "Lion" also premiered on HBO, and at the Telluride Film Festival. Reichert and Bognar also made "The Last Truck," a short film about the closing of the GM plant in Moraine, that was also nominated for an Academy Award in 2010.
Reichert is the author of "Doing It Yourself," the first book on self-distribution in independent film. Her new film "Sparkle" (with Bognar) recently won the audience award for best short at the SilverDocs film festival.