James M. Westlake died Saturday, Sept. 1, at Kendal at Granville. He was 84.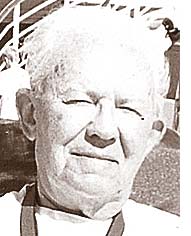 Jim was born Nov. 17, 1927 in Chandler, Ohio to the late U.S. Air Force Chaplain, MacDonald Hopkins and Frances Ruth (VanSchoick) Westlake.
Jim was a graduate and football co-captain of Rainelle High School in West Virginia. As a result of his football prowess, he was recruited (while still in the U.S. Navy) by Woody Hayes to play football at Denison University. It was there, during the blizzard of 1950, that Jim began his lifetime romance with his soon-to-be bride, Teddy Nelson, whom he married Aug. 18, 1951.
During WWII, Jim served with Admiral Halsey on nine different ships as a yeoman, third class. After his Navy duty, Jim worked at Mt. Hope Oil Plant in Panama. After 31-and-a-half years of service at Owens Corning Technical Center, where he never used a single day of sick leave, Jim retired as a lab supervisor. Ultimately, his work with asbestos products caused him to contract mesothelioma.
Adding to his world travel and many outdoor recreations, Jim earned his scuba diving credentials after retirement and continued diving for another 10 years. He was a member of the OCF Golf League, softball team and bowling team. Additionally, he was former co-chair of Granville Couples Golf, and a former member of Granville Golf Club and the Men's League at the Links at Echo Springs, American Legion, SAE and the Licking County Veterans Alliance. Regarding the alliance, he stated: "In considering the most important things in my public life, the participation in the last 15 years with the 50 or so alliance members in presenting the honors to deceased veterans has been the highlight of my life. I'm extremely proud of it, and I'm grateful for the opportunity to have been a part of this great group of veterans and that the members of the alliance have let me participate in their activities."
Surviving are his wife, Theodosia (Teddy) Nelson Westlake of Granville; sister, Jennie Anita Westlake Findlay of Flemington, WV; sister-in-law, Grace Darling (Bambi) Nelson Williams of Yellow Springs and nieces and nephews, including Samantha (Williams) Eckenrode and Frank Whitaker (Whit) Williams of Yellow Springs.
A graveside service will be held Thursday, Sept. 6, 2012 at 10 a.m. at Maple Grove Cemetery in Granville, with Chaplain James Kishler officiating. Military honors will be provided by the Licking County Veterans Alliance. A memorial service celebrating Jim's life will follow at 11 a.m. at Centenary United Methodist Church, 102 E. Broadway, in Granville. Online condolences may be expressed at http://www.mcpeekhoekstra.com.
Memorial contributions may be made in Jim's honor to the Licking County Veteran's Alliance, P.O. Box 854, Newark, OH 43058.