Treesa Madellan Van Buren Liming died peacefully at home in Santa Fe, NM on Aug. 18. She was 91.
Born March 13, 1921 in Evanston, Ill., Treesa lived most of her life in Yellow Springs, Worthington and Springfield, Ohio, before moving to Santa Fe in 1999. Treesa was the daughter of Rev. Vernon Van Buren, a Methodist minister, and his wife, Ruth Bowman Van Buren, both born in Wyandot County, Ohio.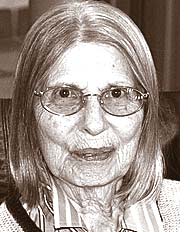 Treesa graduated from Miami University and married Richard Eugene Liming in 1943. He worked for Nationwide Insurance Company in Ohio, taught part time at Ohio State University, campaigned as democratic candidate for Congress in 1960 and 1964 and retired as a professor at Wittenberg University in 1983. After Treesa worked full time raising four boys, she joined Richard at Wittenberg as a study abroad advisor in the early 1970s. Richard preceded Treesa in death on Dec. 22, 1996.
Among many interests, Treesa loved Native American culture, with an understandng that part of her family tree included the Wyandot tribe of northwestern Ohio. Prior to retiring from Wittenberg University in 1983, she took up her husband's passion for photography on their annual summer trips to the southwest.
Treesa is survived by her brother, Dwight Van Buren of Howard, Ohio and Green Valley, Ariz., her sisters-in-law, Joyce Liming of Tucson, Ariz. and Elsie Hevelin of Yellow Springs and her sons, Van (Maggie) of Santa Fe, N.M., Brett of Golden, Colo., Todd of Colorado Springs, Colo. and Reed of Albuquerque, N.M. Also surviving are 12 grandchildren and six great-grandchildren. Treesa will be remembered as a loving daughter, sister, wife, mother, grandmother, cousin and friend. A private family memorial is being planned.