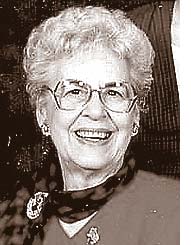 Margaret M. Hawkey, formerly of Celina, Ohio, died at 4:30 p.m. on Saturday, Sept. 29 at Otterbein St. Marys Retirement Community. She was 87.
Margaret was born on May 25, 1925 in Celina to the late Harry and Ica (Miller) Robbins. On Feb. 14, 1946, she married William Lloyd Hawkey, who died Feb. 25, 2007. She was a member of the Immaculate Conception Catholic Church in Celina. She was formerly employed at the Otis Hospital and Reynolds and Reynolds, both in Celina. She had a beautiful voice and loved singing in the I.C. Choir.
Margaret was preceded in death by her son William Hawkey, brother Lloyd Robbins, sisters Yvonne Robbins, Fay Robbins and brother-in-law Joe Severns. Survivors include her son and daughter-in-law Phil and Susan Hawkey of Yellow Springs, daughter and son-in-law Barbara and David LaRoche of Celina, five grandchildren, four great grandchildren, four step-grandchildren, brother and sisters-in-law Junior and Helen Robbins of St. Mary's, Delores Robbins of Celina, sister Doris Severns of Mendon and several nieces and nephews.
A Mass of Christian Burial will be held at 10:30 a.m. on Thursday, Oct. 4, at the Immaculate Conception Catholic Church in Celina, with Fr. Kenneth Schnipke C.PP.S. officiating. Burial will follow in St. Marys Catholic Cemetery in Celina. Friends may call from 4 to 7 p.m. on Wednesday, Oct. 3 and from 9 to 10 a.m. on Thursday at the Lehman-Hogenkamp-Dzendzel Funeral Home in Celina. Memorial contributions may be made to the Ehlers-Danlos National Foundation. Condolences may be made at LHDfuneralhome.com.