Pettiford new police chief
By Megan Bachman and Lauren Heaton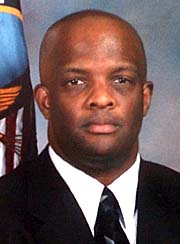 When village resident Tony Pettiford takes over as Yellow Springs police chief on Nov. 19, he will bring a deep knowledge of the community he has called home for 51 years, which he says will serve him well in his effort to keep Yellow Springs safe.
"I wanted to come back to my hometown and serve my community," said Pettiford, currently police chief at Central State University in Wilberforce. "Already being in this area and living here all my life, I think it's going to be a good fit."
At its meeting on Monday, Village Council approved Pettiford's contract after Village Manager Laura Curliss last week officially named Pettiford as the new police chief. The contract includes a salary of $78,000. Pettiford will be officially sworn into office at Council's next meeting on Nov. 19.
"[Pettiford's] professional career has prepared him well for this position," Curliss said in a press release. "During the search process it was clear that he has the best interests of the Village in his heart."
Pettiford replaces current interim Chief Arthur Scott, who came to the Village police department when Chief John Grote retired in February. Scott, who lives in Lebanon, was one of three finalists considered for the position.
Pettiford, 51, has 29 years of law enforcement experience, including 27 years with the Greene County Sheriff's department and SWAT, FBI, Homeland Security and Northwestern University Command School training.
Pettiford said as chief he plans to focus on community policing, where the police department has a daily visible presence in the community and the community notifies police of anything suspicious.
"A lot of times we see something going on, and we don't get involved, but we have to get involved," Pettiford said. "If you see something you have to say something."
Pettiford also said he hopes to step up the role of the police in village schools, from elementary through high school, so that local youth understand the repercussions of their actions.
"I want to start early in our school with the message that the things you do now can follow you for the rest of your life," Pettiford said.
Pettiford, who lives in Yellow Springs with his wife Jody, a fifth- and sixth-grade teacher at Mills Lawn School, and their three children, said that he chose Yellow Springs as the place to raise his family because of a "safe, family atmosphere" where people know each other.
"I think Yellow Springs is a very safe community," Pettiford said. "Are we crime free? No. But we will work to maintain that safe community. That's what we're here for."
Curliss named Pettiford chief after hearing the recommendation from a search committee that included Village Council members Judith Hempfling and Gerald Simms, former Village Solicitor John Chambers and local attorney Ellis Jacobs.
In the press release, Curliss said that it was clear that Pettiford understands community policing and the importance of emphasizing the role of police "as peacekeepers, as persons who can help solve problems, prevent crime and guide behavior in addition to enforcing the law when necessary and appropriate." She also noted that Pettiford's experience at Central State would be applicable to policing a community that includes two college campuses, Antioch College and Antioch University Midwest.
"While no candidate will be the choice of all, Mr. Pettiford received overwhelming support during the process," Curliss said. "I look forward to a great working relationship with him in providing for the safety of Village residents and visitors."