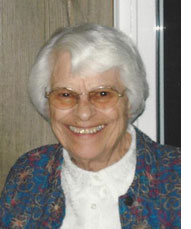 Martha Elisabeth (Anderson) Benham of Springfield went to be with the Lord on Aug. 6. She passed away peacefully at the age of 93 with her family near in the Hospice of Cincinnati in Blue Ash, Ohio.
Martha was born on Dec. 1, 1919 in Cedarville to Dr. Leo Anderson D.V.M. and Martha (Knott) Anderson. Martha had a vital faith in God and has been an involved member of Southgate Baptist Church for the last 33 years. She joyfully served in many aspects of the church ministry.
Martha graduated from Cedarville College, receiving her physical education degree and her master's degree from Wright State University. She was a school teacher in various local schools. Her latest place of residence was Friends Care Assisted Living in Yellow Springs.
Survivors include her husband of 69 years, Lloyd G. Benham; three children, Gerald L. (Jane) Benham of Pitchin, Martha E. (Richard) Betts of Deshler, Ohio and Susan K. (Thomas) Baron of Maineville, Ohio; seven grandchildren and three great-grandchildren. A gathering of family and friends will be held Saturday, Aug. 17, 10–11 a.m. at Southgate Baptist Church, where the memorial service will follow to celebrate Martha's life at 11 a.m. A private burial will be held in Clifton Cemetery.
In lieu of flowers, the family requests that memorial gifts for Martha be given to Southgate Baptist Church, 2111 Center Blvd., Springfield, OH 45506 or Hospice of Cincinnati, 4360 Cooper Road, Cincinnati, OH 45242. Condolences may be expressed to the family at http://www.littletonandrue.com.