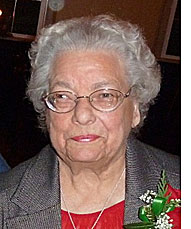 Thelma F. (Baker) Phillips of Yellow Springs passed away peacefully with family by her side at Friends Care Community on Saturday, Aug. 10. She was 83.
Thelma was born on July 6, 1930 to the late Vernon and Edith (Harvey) Baker in Christiansburg. She was a graduate of Springfield High School in 1949. Soon after graduation, she began working as a bookkeeper. Shortly after going to work, she met the love of her life, Richard Phillips, whom she married on Dec. 15, 1951. Together, they began to build a family that consisted of five daughters, and Thelma decided to dedicate her time to caring for her children. Once they were grown, she returned to work and retired from AC Service Company after 28 years. She enjoyed the simple things in life. She was content spending her time working on crossword puzzles or word searches, and enjoyed being with her family more than anything. She was very organized, and was a diligent card sender; one could always count on a type-written card from her for nearly every occasion.
Thelma is survived by her husband, Richard; five daughters, Patti Taylor of Fairborn, Mary (Craig) Conrad of Yellow Springs, Teresa Phillips (Mike Burchett) of Fairborn, Pamela (Warren) Hensley of Fairborn and Roberta (Jim) Semler of Yellow Springs; ten grandchildren, Tom Taylor, Debbie Thompson, Michael and Dustin Granger, Aaron Pitstick, Tyler and Jason Hensley, Heather, Kristen and Anna Semler; seven great-grandchildren, Kaitlyn and Emma Taylor, Makenna, Luke and Kaleigha Granger, Rylee and Carter Hensley; sister, Edna Scott of Springfield; and numerous nieces and nephews and many close friends. Along with her parents, Thelma is preceded in death by her sister, Leona Smith, and granddaughter, Robyn Taylor.
Visitation will be held from 6–8 p.m. on Wednesday, Aug. 14 at Pleasant Grove Missionary Church and Thursday, Aug. 15, 10–10:30 a.m. Funeral services will begin at 10:30 a.m. on Thursday, with Pastor Ken Moore officiating. Burial will follow at St. Paul Catholic Cemetery. The family of Mrs. Phillips would like to thank everyone who helped them through these difficult times, especially the Friends Care Community, Hospice of Dayton, the Greene County Council of Aging, and Kettering Hospital. Condolences may be made to the family by visiting http://www.jacksonlytle.com.