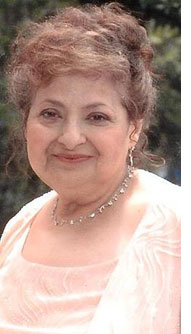 Shirley Anne (Raizk) Ellis of Xenia passed away Thursday, Sept. 12 at Kettering Medical Center. She was 71.
Shirley was born March 17, 1942, in Tecumseh, Mich., the daughter of Fred and Wadad Massad Raizk. She was raised in Wilmington, Ohio, was a 1960 graduate of Wilmington High School, attended Denison University, Pi Beta Phi, and was a 1963 graduate of Wilmington College, with a Bachelor of Arts in English and history and a minor in philosophy and religion. She taught English at Upper Arlington High School and West (Warner) Junior High School. She left teaching to raise three children and returned to the workforce by selling real estate with her dear friend, Kay Slessinger. Her real estate career evolved into her own business as an interior designer, Shirley Ellis Designs. As a designer, Shirley planned weddings and designed both residential and commercial buildings, notably the City of Xenia building.
Shirley was also very active in the community; she served as president of the League of Women Voters and president of the Xenia Area Living Arts Council, where she directed and starred in many plays. She was a member of Christ Episcopal Church, where she served as a vestry member and senior warden. She was active in the Greene Memorial Hospital Follies, a member of the Xenia Garden Club, board member of the Xenia Area Chamber of Commerce. In 1990, when the Xenia School Levy failed, Shirley asked Xenia High School and Carroll High School students to join her production of Grease along with the students of OVCH. Shirley loved children and even invited some of the children from the children's home to live in her own home.
Shirley is survived by her husband, Dr. Jon H. Ellis; two sons and daughters-in-law, Dr. Bryan Jon (Ann) Ellis, Loveland and Dr. Brett Frederick (Dr. Suzanne) Ellis, Xenia; a daughter, Elizabeth Anne (Ward) Barrentine, Oakwood; six grandchildren, Isabelle Mae Ellis, Isaac Raymond Ellis, Abigail Ann Ellis, Emmaline Elizabeth Barrentine, Benjamin Ellis Barrentine and Anastasia Elizabeth Ellis; two brothers and sisters-in-law, Frederick I. (Deanna) Raizk, Maineville and David L. (Mary Ann) Raizk, Wilmington; two brothers-in-law, Thomas M. (Melissa) Ellis, Columbus, and Donald C. (Katherine) Ellis, Centerville; aunts Yvonne Haines, Greenwich, Conn., Adele King, Woodland Hills, Calif., Marie Aboussie, Austin, Texas and Virginia Naifeh, Oklahoma City, Okla.; several nieces and nephews, Gary and Maria Steppling, South Riding, Va., Greg and Marlo Trott, Chicago, Ill., Lauren and Joshua Wulff, Wilmington, Leyla Raizk, Newport, Ky., Nick and Sarah Ellis, Columbus, Sam and Kristin Ellis, Columbus, Victoria Ellis, Washington, D.C., Pierson Ellis, Albany, N.Y., Matthew (Kate) Ellis, Boston, Mass., Austin Ellis, Centerville; and special friends, Monica Leon, Xenia, KayBeth Woodard, Stamford, Conn., Barbara Bonham, Yellow Springs and Barbara Bradfute, Xenia. She was preceded in death by her parents. Shirley will be greatly missed by all who knew and loved her.
Services were held Tuesday, Sept. 17 at Christ Episcopal Church in Xenia. Burial will be held at the convenience of the family in Friend's Cemetery, Xenia. Contributions may be made to Christ Episcopal Church in Xenia in her memory. Condolences may be made to the family at http://www.neeldfuneralhome.com.