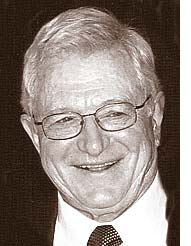 Jerry L. Knoth of Yellow Springs passed away Sunday, Oct. 20, at his home. He was 77.
Jerry was born Aug. 5, 1936 in Mercer County, Ohio, to the late Henry and Mildred (Jutte) Knoth. On Aug 19, 1961 he married Barbara E. (Witter), who passed away Sept. 8, 2012.
Jerry was a veteran of the U.S. Army and a member of Amvets. He was a member of Mary Help of Christians Catholic Church in Fairborn, worked construction in Heavy and Highway and Landfill Construction and Maintenance divisions, was an OSU fan and loved gardening and woodworking.
Jerry is survived by his loving dog Pepper; three children, David Henry and Cathy Knoth of Springboro, Timothy Lowell and Jennifer Knoth of Springboro and Heather Leigh Knoth of Yellow Springs; four grandchildren, Tyler, Emily, Taylor and Benjamin; four siblings, Jim and Nancy Knoth of Brookville, Janet Turner of Indian Lake, Jane and Jerry Rutledge of Celina and John and Brenda Knoth of Charleston, W.Va.; in-laws, William and Glenna Witter of Virginia, Don and Carol Witter of Florida, Karen and Terry Hutton of Missouri, Sharon and Jim Walls of London; friend of the family, Kathy Eubanks of Chilo, Ohio; as well as numerous nieces, nephews, other extended family and many friends. He was preceded in death by an infant son, Christopher, and a son-in-law, Rick Godwin.
A mass of Christian burial will be held at 10:30 a.m. on Friday, Oct. 25 at Holy Trinity Catholic Church in Coldwater, Ohio. Burial will follow in St. Elizabeth Cemetery in Coldwater, with Fr. Ron Wilker officiating. Friends may call from 6–8 p.m. on Thursday, Oct. 24, and from 99–10 a.m. on Friday, Oct. 25 at the Hogenkamp Funeral Home in Coldwater. In lieu of flowers, the family requests memorial contributions be made to a charity of the donor's choice. Condolences may be left at hogenkampfh.com.