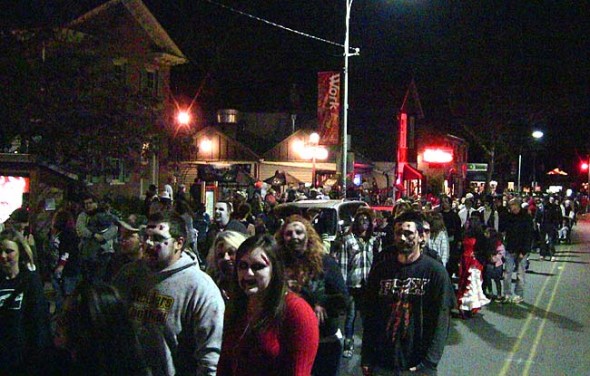 Uprising of the undead — take five
Skin will pucker and brains will waft at this weekend's fifth Annual Yellow Springs Zombie Walk on Saturday, Oct. 19. Ghouls will gather at this family friendly, all ages event downtown on Dayton Street from 4 to 11 p.m., with a brief pause for a zombie wedding at 7:30 p.m., followed by the ever popular zombie walk beginning at 8 p.m. from the corner of Dayton and Corry streets.
Festivities begin with live performances by DJ 501, Will C & F.A.M.I.L.Y., Godless Heathens, Male Falcon, Love or Drugs, Doctor Meat and Aludel. Those coming undead after a particularly deep slumber can take advantage of a touch up with some professional FX makeup. Others can enjoy face painting, games for kids and food and craft vendors. Arise in high style for the costume contest that will stud the evening with more rot and gore. 
Zombie Walk is a charity event to raise money for Home, Inc. and to collect items for the local pantry. Participants are asked to donate in order to take part in the walk. The suggested donation $5 and 2 pantry items.