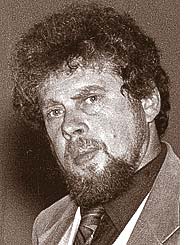 Richard Wesley Bird of Yellow Springs passed away on Sunday, Dec. 29 at Soin Medical Center in Beavercreek. He was 83.
Richard was born Nov. 18, 1930 in Columbus, Ohio to Mildred Moss (Ballard) Bird and Wesley Sanford Bird. His mother was a translator of German scientific articles and a published poet. His father was a photographer who also directed training films for the U.S. Armed Forces and military flight scenes for Hollywood studios. Richard grew up in Columbus, Dayton and Oakwood, Ohio.
Richard briefly served in the U.S. Naval Reserve. During that time, around age 19, he also began working for Cox Newspapers. He became a journeyman pressman there, printing the Dayton Daily News for over 42 years.
Richard was a serious amateur photographer, serving as volunteer director of the Antioch College darkroom for many years. He was also an award-winning silversmith, a car enthusiast (his first car was a Ford Model T that he assembled himself at age 14) and a flat-track motorcycle racer. He was a 15-year member of the Gem City Dog Obedience Club and he had a passion for breeding, training and showing Siberian Huskies. He and his wife Peg traveled throughout the Eastern United States and Southern Canada for many years, exhibiting at dog shows and earning both conformation and obedience titles for his Huskies and her Keeshonds. Richard was also very active in placing rescue dogs in loving homes.
A long-time Zen Buddhist, Richard lived in Yellow Springs for 48 years and truly loved the Village and its inhabitants. After retiring from the Dayton Daily News, he could often be seen downtown handing out dog "cookies" to his canine friends and making new human friends as well.
Richard is survived by his wife of 30 years, Margaret (Peg) Hostetler Bird, his stepson Ryan Kimmet, Ryan's wife Tanya and their son Zachary — all currently residing in Yellow Springs. He is also survived by his sister Carol Ann Rohde, brother-in-law David Rohde and cousin Suzi Bird of Columbus, as well as five children from previous marriages: Wesley, Lynda, Raymond, Bonnie and Penny Ann; and by numerous grandchildren, great-grandchildren and great-great grandchildren.
No funeral service was held, as Richard decided many years ago to donate his body to the Wright State University Anatomical Gift Program. When asked about this, he would often smile and say, "Well, you can't take it with you. Besides, Mother always wanted me to go to medical school." This was typical of his laid back attitude and sense of humor, and he will be dearly missed by all who knew him.
A memorial service will be held at a later date at Wright State University.