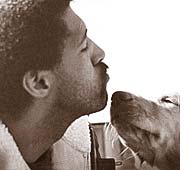 Ronald Charles Harris of Dayton, Ohio was taken from us unexpectedly on Wednesday, Jan. 8. He was 57.
Ron was born to Albert and Ople (Davis) Harris on Dec. 22, 1956, the sixth of nine children. He was a mechanic by trade and former semi driver. He was an active baseball player and a competitive and welcomed arrival at the pool table. An avid dog lover, he was rarely seen without one of his furry critters by his side. Ron knew no strangers, and had many friends that lasted his life time. "Once you met Ronnie, you knew him forever."
Ron was preceded in death by both parents, his sister Cheryl and brothers Kenneth, Keith and Timothy.
He is survived by sisters Trudy, Patricia, Cynthia and Esther, and a host of nieces, nephews and cousins from coast to coast. As well, Ron will always hold a special place in the hearts of Dionne Moira and her sons Ryan and Joshua Berning.
A memorial to celebrate his life will be held in the spring of 2014. The particulars will be announced at a later date.