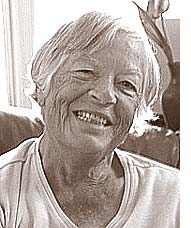 LaRaine (Dewey) McQueen died peacefully of natural causes on Jan. 18, in assisted living in Meridian, Idaho, surrounded by her four children and one adult grandchild. She was 79.
LaRaine created a warm and inviting home for her family and all who visited. Her idea of a dream job as an interior designer showed in her homes, which were filled with vibrant colors in textiles, glass, ceramics and wood. Quilts were often a centerpiece of the living space where kids could play underneath, watching the hands of relatives as they stitched and talked alongside her. She sewed clothes, swimsuits and Halloween costumes for her kids. She took great care in providing nourishing meals and delicious baked goods, every day, from scratch. Many favorites included fresh made breads, pies, cream puffs, orange rolls, carrot pudding, ice cream rolls and so much more.
She enjoyed gardening, both of flowers and produce, her raspberries a treat throughout winter as she always bottled a supply of them. She was very fond of cats, especially Siamese. Piano music was one of her favorites, and she ensured her children had the opportunity to learn it by having one as part of the home.
Despite all that she did in raising four children as she did, LaRaine's homes were still immaculate. When younger, she was known to hit softballs out of the park, and her love of being physically active was present throughout her daily life, even in her last days. Most importantly, she liked nothing better than being surrounded by family and friends, being a loving grandparent, and enjoying deep conversations and joyful sharing in everyone's lives.
LaRaine was a truly kind and loving person, endearing her to everyone who knew her. It was easy to talk to her about anything. She clearly embraced life, saying she would live until she died, and she did just that. Her bright light of being will be deeply missed. The McQueen family lived in Yellow Springs from 1967–1976.
LaRaine is survived by her four children, Desiree (Don) Taylor, Kimberly Klein (Paul), Teresa McQueen, and Eric (Rhonda Taylor) McQueen; her four grandchildren, Mercedes Klein and Jake, Connery, and Kindred McQueen; her nieces, Shonna (Everett) Mead and Rosharon Carper; her siblings, Clara Slone, Florence Goodson, LaReine Stevens, Julia Dewey, John Dewey and Larry Dewey. She is preceded in death by her husband, Phil; her parents, John and Amanda (Miller) Dewey; and her sister, Patricia Gaw.
Cremation services were provided by Bowman Funeral Parlor in Garden City. Her memory would be well honored by volunteering or giving donations in her name to your local humane society or cat shelters. Condolences may be sent to larainememories@icloud.com.