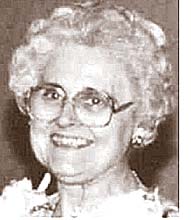 Agnes Lawall Moon, who lived in Cincinnati from 1953 to 2012, passed away on June 11 at the Friends Care Center. She was 95. She was the loving wife of Edwin O. Moon for 55 years, until his death in 1996.
Agnes was born March 17, 1919 in Richmond, Ind. She was a graduate of Wayne State University in Detroit where she met her husband Ed; they were married on June 19, 1941. Agnes loved children and was a kindergarten teacher in the Cincinnati Public Schools from 1954 to 1984, most of those years at Rockdale Elementary.
She was a gentle person and a lifelong member of the Religious Society of Friends (Quakers). After moving to Cincinnati in 1953, Agnes was active in the formation of the East Cincinnati Friends Meeting and later the Community Friends Meeting.
Agnes is survived by sons Tom (Cathy) and Sam (Katherine) of Cincinnati and daughter Susan (David Hyde) of Yellow Springs. She was a grandmother of eight and great-grandmother of seven. She was preceded in death by sons Lewis (Sharon) of La Plata, Md. and Roy (Lyn) of Brookville, Ind. A memorial service will be held at the Cincinnati Community Friends Meeting at a date to be determined. Interment will be private at Spring Grove Cemetery.
Memorial donations suggested to: Community Friends Meeting, 3960 Winding Way, Cincinnati, Ohio 45229.
A life lived in the light.