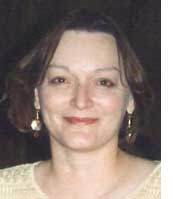 Deborah (Debbie) Louise Cushman, of Springfield, left this earth in the presence of loved ones on Saturday, Aug. 2. She was 63.
Debbie was born June 11, 1951, in Fort Meade, Md., and grew up in Coshocton, Ohio. She graduated from Coshocton High School in 1969 and went on to attend Ohio University in Athens, Ohio. Debbie moved to Yellow Springs in the early '70s and was employed at Antioch University as the food service director. In the early '80s, she left Antioch to go into management at Kroger, and eventually moved to Springfield. It was during her employment at Kroger that she met Robert Kozmar. They were married on Nov. 30, 1985.
A few years later, she decided to follow in her father's footsteps and become a realtor. During her 27-year career as a realtor, she sold numerous homes and went above and beyond for all of the families she served. She served as the WRIST MLS director from 2004–2012. She served as president of the Springfield Board of Realtors in 2011. She was an SBOR Lifetime Achievement award winner. She was, for multiple years, OAR Presidents Sales Club award winner, RE/MAX International sales award winner, RE/MAX Leading Edge top sales award winner and SBOR realtor of the year. She served as president of the Woman's Council of Realtors as well.
Debbie was a member of the Springfield Board of Realtors, Columbus Board of Realtors, Dayton area Board of Realtors, OAR, NAR, The Realtor Political Action committee and the Springfield Chamber of Commerce.
Debbie and Bob didn't have children, but have 10 cats that they spoiled, and who were their "children"." A majority of them were rescued cats. She helped many people get their cats spayed, neutered and declawed. She absolutely loved the color green. Debbie enjoyed fine dining and fine wine. She enjoyed gardening, cooking with fresh herbs from her garden and the local farmers markets. She and Bob were avid bird watchers. Their yard was certified as a wildlife habitat. She had a butterfly garden and numerous bird feeders. She enjoyed playing board games and cards with her family and friends. Debbie had a great social conscience, and wouldn't buy anything made in China. She was dedicated to practicing ecologically friendly living and socially responsible buying.
Debbie was preceded in death by her father, Hubert Prince Cushman Jr.; stepfather, Lyle Ehrenberg; step-sister, Susan Ehrenberg and step-brother-in-law, Robert Millen. She leaves behind her husband of nearly 30 years, Robert Kozmar; her mother, Dorothy Ehrenberg; her siblings, Linda (Erik Greiffenhagen) Cushman of Springfield, Hubie (Deana) Cushman of Coshocton, Dick (Jennifer) Cushman and Doug Cushman, both of Dublin, Ohio, Janet (Mike) Rettos of West Lafayette, Ohio and step-sister Gretchen Millen of Coshocton; a host of nieces and nephews and her beloved cats.
In lieu of flowers, the family suggests donations in Debbie's name to the Animal Welfare League, PETA or the Humane Society. A celebration of her life will be held from 3–6 p.m. on Wednesday, Aug. 13, at Jackson, Lytle and Lewis Life Celebration Center in Springfield, with a memorial service beginning at 6 p.m. Condolences may be expressed to her family at http://www.jacksonlytle.com.