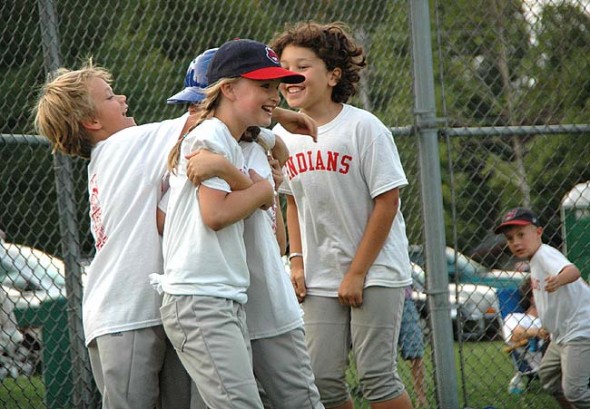 Indians win Minor League regular season
 Just like last year, the Winds Café Indians swept the 2014 Minor League season last week, finishing first in regular season play with a record of 7–1.
 The team opened the last week of regular season games with a 14–8 victory over the Tom's Market Pirates on Wednesday, July 23, in what could be called the game of "brothers." The Pirates jumped out to an early 6–0 lead in the top of the first inning on RBI singles from brothers Otto and Emmett Cipollini and two RBI base hits from brothers Shawn and Dyllon VanHoose. But the Indians fired back to tie the score in the bottom half. The Indians never trailed after adding five runs in the third and three more in the fourth, including a home run from Ava Schell.
The Indians' second win of the week came in a nail biting 8–5 victory over the Vintage Truck Dragons on Saturday, July 26, in which Jake Ortiz-Thornton doubled in the first inning and singled in the second and third. The Indians didn't relinquish the lead after first inning RBI singles from Trinidad Speck and Schell, scoring Ortiz-Thornton and Luka Sage-Frabotta. The Dragons pushed across one run in both the first and second innings. But the Indians responded with three runs in the third and three more in the bottom of the fourth. Ortiz-Thornton ended the game with his sixth infield put out of the game.
—Taken from a report by league organizer,Tim Sherwood 
For a full story on the games and other team standings, read this week's Yellow Springs News. For this week's Minor League tournament results to leaguelineup.com/ysoyouthbb.