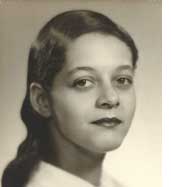 M. Joyce Goodson, of Yellow Springs, passed away on Friday Aug. 8. She was born Aug. 27, 1930, in Dayton, the daughter of the late Louis and Margaret (Gudgel) Goodson.
She retired from Greene County Children Services and Antioch College. She was a member of St. Paul Catholic Church where she enjoyed singing in the choir. She also enjoyed knitting and soap operas. Joyce was a faithful volunteer at the Yellow Springs Senior Citizens Center.
She leaves to cherish her memory special cousins Veda (Jack) Gudgel-Glenn, of Columbus; John (Kathy) Gudgel II, of Yellow Springs; Irma Bass, of Springfield; and Camille Lawson, of Detroit, Mich.; and a host of cousins and friends.
She was preceded in death by her parents; one sister, Constance Steward; two uncles, John Gudgel and Vernis Gudgel; one aunt, Helen (Gudgel) Bass; and cousins Norman Bass, Vercenia Vance and Harriet Washburn.
Service for Joyce Goodson will be held on Thursday, Aug. 14, at First Baptist Church, 600 Dayton St., Yellow Springs. Visitation will be 10 a.m. until time of service, which will be at 11 a.m. with Deacon Paul Richardson officiating. Interment will follow at Glen Forest Cemetery. Arrangements entrusted to Porter-Qualls-Dunlap Funeral Home.