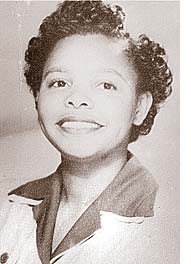 Freeda Undine Norris Hawkins, age 89, of Xenia, Ohio, passed away on Monday, Sept. 1. Freeda was born March 1, 1925, in Gaffney, S.C., to the late Dr. Clarence L. Norris and the late Mrs. Undine Littlejohn Norris. She graduated from Granard High School in Gaffney, and graduated from Talladega College in Alabama with a Bachelor's degree in physical education. She also attained a graduate degree in physical therapy from the University of Wisconsin in Madison. Freeda worked at St. Francis Hospital in Peoria, Ill. with infantile paralysis patients during the polio epidemic.
Freeda then moved to Dayton to work at the Veterans' Administration Hospital, where she met the late Dr. Roy Charles Hairston, who became her loving and devoted husband. Dr. Hairston was director of the tuberculosis hospital. It is worthy to note that they both may have been the first African Americans to work in the positions of physician and physical therapist at the Dayton V.A. Through their union, they had one child, Sherry Norris Hairston (Walker). After a few years, Freeda went to work at Goodwill Industries in charge of the Physical Therapy Department, and later had additional duties as counselor to clients in the vocational program, mainly those in a personal adjustment program. (She had then completed graduate course work in counseling at Miami University Extension and Wright State University.) She represented the agency as consultant to Kettering Hospital Amputee Clinic, and other community service agencies. After many years at the agency, she moved on and worked with the Visiting Nurses Association. Soon thereafter, she met and married Reginal Hawkins (deceased).
She changed careers and worked for the City of Dayton as director of the newly established Ellison Senior Citizens Center, where she retired years later. She was honored as one of 16 women to receive a special award given to Dayton area African-American women for their accomplishments and commitment to the community (sponsored by Unity State Bank and over 30 supporting organizations). Freeda was featured in a Dayton Daily News article upon her retirement from Ellison Senior Citizens Center, and her main tribute was to her father (her mother had passed away when Freeda was three months old): "My father, [Dr. Norris], was a country doctor in South Carolina. He instilled me with values and beliefs and I've tried to pass them on.
She is survived by her daughter Sherry and son-in-law Robert Walker, grandchildren Issa Walker and Aiysha Walker and extended family and friends. In lieu of flowers, donations may be sent to Hospice of Miami Valley. Condolences may be made to the family at http://www.newcomerdayton.com.