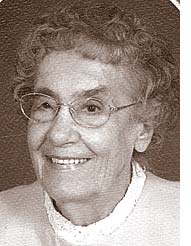 Elsie K. Baker, of Yellow Springs, passed away peacefully surrounded by her family on Monday, Nov. 17. She was 85.
Elsie was born on Feb. 25, 1929, in Clark County, the daughter of the late Christopher and Nancy (Gibson) Knox.
To Elsie, family was the most important part of her life. She was raised in foster care and was separated from her siblings for her entire childhood before reuniting with them as adults. After graduating from South Charleston High School, she started nursing school in Springfield and met her beloved soul mate, Oliver. After dating for around a year, they married on Feb. 10, 1949. In 1950, she had her first son, Daryl, and over the next 18 years, Oliver gave her the big family she always wanted, with five more children: Kathryn, Janet, Denise, Brian and Maria. While her husband worked at Wright Patterson Air Force Base, Elsie took care of the home and her children. She was a dedicated and strong wife and mother who always put her family's needs before her own. Not having much of a family life as a child, she made sure her family had the best care she could provide.
Everyone knew Elsie and she knew everyone. Through her adult life, after her children were gone from home, she made sure to take care of her neighbors and community friends and touched every life who met her. Her life was as beautiful as she, and her long 85 years can not be summed up in words, but her love and dedication to her family and friends is the legacy she leaves behind.
She is preceded in death by her husband, Oliver; daughter, Kathy Baker; two brothers and one sister.
She is survived by her sons and daughters-in-law, Daryl (Jenna) Baker and Brian (Carol) Baker; daughters and son-in-law, Janet Ramsey, Denise Baker and Maria (Chuck) Eltman; 10 grandchildren; 7 great-grandchildren; half-sister, Phyllis Myers; and numerous nieces, nephews and many special friends.
Viewing was held on Friday, Nov. 21, at Jackson Lytle and Lewis Funeral Home in Yellow Springs. A funeral service was held on Saturday, Nov. 22, at the Yellow Springs United Methodist Church, with Pastor Sherri Blackwell officiating. Burial followed at Glen Forest Cemetery. Condolences may be expressed to her family by visiting http://www.jacksonlytle.com.