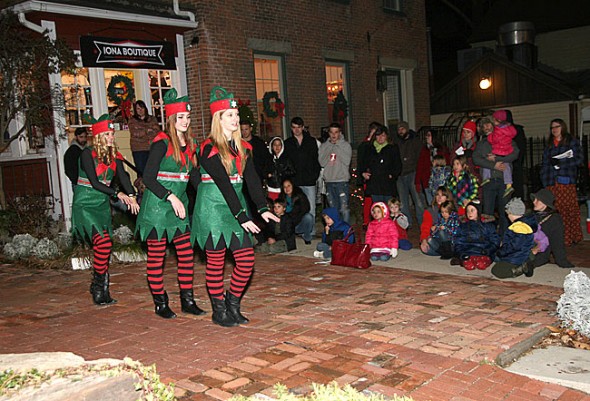 Yellow Friday kicks off holidays in Yellow Springs
Concurrent with its cousin of a darker shade, Yellow Friday kicks off in the village on Nov. 28. Holiday shopping at home in Yellow Springs is especially useful this year, as village shops have been challenged by the sidewalk reconstruction on Xenia Avenue. And adding to the options this year is the inauguration of Yellow Springs Alternative Gift Fair, a one-stop shopping event at the Presbyterian Church for gifts from local nonprofits. Some alternative gifts include handcarved walking sticks by George Bieri and adopt a raptor from Glen Helen, theatre package presents from Little Art Theatre, Poor Will's Almanacs, give an acre from Tecumseh Land Trust and hand crafted cards, candles and smudge sticks. 
To celebrate the renovated streetscape, the village will host its second holiday tree lighting ceremony at 6 p.m. on Saturday, Nov. 29. 
Around the downtown in general this weekend Yellow Springs will offer other events and activities.
On Thanksgiving Day, Yellow Springs will hold its annual Community Thanksgiving dinner at 2 p.m. at the Presbyterian Church. The event, sponsored by the Yellow Springs Interspiritual Council, is free and open to everyone, and includes traditional, vegetarian and vegan options. Participants are asked to bring a dish to share if possible. 
Also on that day, Young's Jersey Dairy will hold a Thanksgiving buffet from 10:30 a.m.–6 p.m.
On Friday, Nov. 28, Alternative Gift Fair takes place 10 a.m.–2 p.m. at the First Presbyterian Church, including hot drinks and cookies. Free carriage rides will be available around the downtown between noon and 3 p.m. And Miami Valley Pottery will also hold its holiday sale at the pottery at 145 E. Hyde Road from 10 a.m. to 5 p.m. The sale continues on Sunday, same hours. 
Saturday, Nov. 29, is national Small Business Saturday, which for Yellow Springs means over 65 shops, eateries and galleries will be open. Free canvas bags will be handed to the first 100 shoppers. The tree lighting is that evening.
Next Saturday, Dec. 6, from 9 a.m. to 3 p.m. Yellow Springs High School students will be selling School Forest Christmas trees at the Bryan Park Road entrance to Glen Helen. Participants can enjoy a hayride, refreshments, and cutting their own tree (optional.)
Throughout the weekend and holiday season Young's Dairy will open its Christmas tree choosing and cutting sale from Nov. 28–Dec. 21, daily from  9a.m.–6 p.m. Also from Nov. 28 to Dec. 1 Clifton Mill will light its mill and cliffsides daily 6–9 p.m. from Nov. 28–Dec. 1.