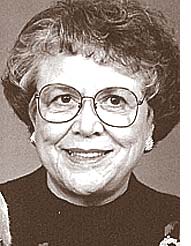 Arlene Motter passed away on Dec. 6 after a courageous three year battle with non-Hodgkin's Lymphoma.
Arlene was born on Jan. 19, 1935, in Boston, Mass., to Vincent and Catherine (King) DeBonis.
After graduating from Winthrop High School, Arlene worked as a telephone operator. She met Joe Motter while he was stationed at Fort Banks as part of the US Army. Arlene married Joseph Motter on August 22, 1953 in Winthrop, Mass., and the two moved to Ohio to begin their new life together.
In addition to raising four children and being a homemaker, Arlene worked for the Ada Ford Foundation and later The Ohio State University–Mansfield Campus. Arlene enjoyed her miniature Schnauzers and her cat, "Kitty Boy." She also loved feeding birds and tracking the various kinds that came to feed.
She is survived by her loving husband of 61 years; her children, Steve Motter (Joy) of Bellville, Ohio; Rick Motter (Deborah) of Sanford, N.C.; Kim Ocheltree (Bill) of Bellville, Ohio; and Robin Heise (Mark) of Yellow Springs; along with nine grandchildren, four great-grandchildren, her brother John DeBonis of Wakefield, N.H., and her sister Cathy Regan of Hull, Mass.
She was preceded in death by her parents Vincent DeBonis and Catherine (King) DeBonis, her sister Jean DeBonis and her brother Robert DeBonis.
Services were held Saturday, Dec. 13, in the Lexington Avenue Snyder Funeral Home. Private interment was held in Mansfield Memorial Park.
In lieu of flowers, donations may be made to the American Cancer Society or Hospice of North Central Ohio.