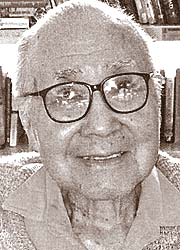 Frank Isamu Kakoi passed away peacefully at Friends Care Community Center on Jan. 22 at the wondrous age of 94.
Frank was born to his mother, Yeda Kakoi, and father, Zentaro Kakoi, in Los Angeles, Calif. He was the middle of five children. He was preceded in death by his siblings, George, Mary and Alice. He is survived by his younger sister, Lily, who resides in Kissimmee, Fla.
Frank graduated from Thomas Jefferson High School in 1939, and after attended the Frank Wiggins Trade School to become a linotype operator. Frank's family was one of many who were forced to relocate to a Japanese internment camp in the Mojave Desert. They remained there until Ernest Morgan of Yellow Springs (son of Arthur Morgan) requested Frank's release and immediate employment at the Yellow Springs News. Upon his arrival in Yellow Springs, Frank found great love for the small town and found his fears of prejudice were met by acceptance. Thus, Ernest Morgan later arranged for Frank's mother and sisters to move here and reconciled the Kakoi family, for which Frank was always eternally grateful.
Frank served his country in the United States Army and toured in Europe from 1944–55. He was later employed by the Springfield Sun News, Antioch Bookplate, Yellow Springs News and retired from Miller Printing of Springfield.
Frank was known for his rare and unconditional kindness, which he projected in every aspect of his life. He will be remembered dearly by everyone who had the pleasure of knowing him, especially that of his closest companion, Lee Johnston, who knew Frank as a man of wisdom, laughter and a constant smile. Frank's golden rule, and one that we can all learn from, was to treat others as you would like to be treated. This exceptional soul will be dearly missed but never forgotten. Lily Cassels and Lee Johnston would like to extend their thanks to Friends Care Community Center for the nearly eight years that Frank not only lived there, but thoroughly enjoyed.