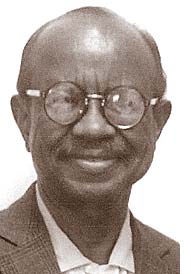 William Boyd Roberts, M.D., age 63, of Yellow Springs, passed away on Jan. 14 at Riverside Methodist Hospital in Columbus. He was born on July 29, 1951, in Clarksville, Tenn., to the late Iotha and Martha (Wooten) Roberts.
Dr. Roberts was a 1969 graduate of Burt High School in Clarksville, Tenn., and a 1974 Air Force ROTC graduate of Tennessee State University in Nashville. He was also a member of Omega Psi Phi Fraternity. Dr. Roberts was a 1993 graduate of Wright State University Medical School and had been in private practice since the early 1990s. Prior to medical school, he was an active duty U.S. Air Force aircraft maintenance officer, as well as an Air Force reserve officer.
Dr. Roberts was the proprietor of Doctors House Call of Columbus, where he practiced up until his transition on Jan. 14, 2015. He gave his service to the greater Columbus community with a comforting and caring bedside manner. He was well-respected by his colleagues in the Columbus medical community.
Dr. Roberts is survived by his wife, Jackie, and their children, Mychael N. Roberts, Julian M. Roberts and Griffin X. Roberts; his older children from the union to Brenda Moss Fitzgerald, Vincent D. Roberts and Tamarssa N. Roberts and one grandson, Iain I. Robinson; brothers, Iotha Roberts Jr. and Donald Roberts, and two nephews as well as a host of other family, friends, and loved ones.
Funeral services were held Tuesday, Jan. 20, at Newcomer Funeral Home in Dayton. Burial was held immediately following at the Dayton National Cemetery. Dr. Roberts requested no flowers.
To leave a special message for the family online, please visit http://www.newcomerdayton.com.