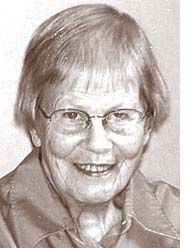 Lorena Estlow Hyde, longtime resident of Yellow Springs, died on April 17, 2015, at Greene Memorial Hospital in Xenia. She was born on Dec. 21, 1924, in Fruita, Colo., where her father, the Rev. G. Walker Estlow, was a Methodist minister. Her family moved east and Lorena was raised in New Jersey, Pennsylvania and upstate New York, although some part of her heart was always in the Colorado mountains.
During World War II, she was employed at two war supply factories and achieved her goal of saving enough money to pay for college. She attended Antioch College, graduating in 1949. After finishing college, Lorena spent a month in a Congress of Racial Equality (CORE) workshop, working to integrate racially segregated public facilities in Washington D.C. She also worked at a summer camp for disadvantaged urban children from Cincinnati. Prior to her marriage, she worked as a teacher at a school for profoundly mentally disabled children in Chicago.
Lorena married fellow Antiochian, Dr. Carl Hyde, under the care of the Friends Meeting in Cleveland in 1950. They settled in Yellow Springs in 1954, where they raised four children and were active members of Yellow Springs Friends Meeting.
Lorena played the piano from an early age. As a child, she played for her father's church and as a mother, she accompanied her own children for recitals and auditions. She was a member of the Yellow Springs Community Chorus for many years. She was also an appreciative concert-goer, unhesitatingly taking her four-year-old daughter along with her to a string quartet concert.
Lorena had a deep love of nature and enjoyed hiking in the Glen and visiting nature preserves in various parts of the country. She was an avid and highly knowledgeable birdwatcher, able to identify many species by sight or song.
Lorena is survived by her husband, Dr. Carl Hyde; her brother, Edward W. Estlow; son Dr. David Hyde (and wife Susan); daughter Rachel Hyde (and husband Kevin McCarthy); daughter Martha Hyde (and husband; Earl Whitted); and daughter Sarah Hyde, as well as eight grandchildren: Edward, James and Laura Hyde, Mary Hyde Keahey (and husband Peter), Nancy and Margaret McCarthy, and Avery and Carl Whitted.
A memorial service is planned; date to be announced. Please send photos and memories of Lorena, to be included in a memory book for the family, to susanhyde@aol.com or Susan Hyde, 1405 President St., Yellow Springs, OH, 45387.