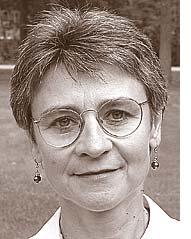 Angela M. T. Wright, born March 1, 1951, died Aug. 22, 2015. Angela was born in Milan, Italy, and came to America in 1960. She lived in Yellow Springs and attended The Antioch School, Morgan Middle School and Yellow Springs High School, where she graduated in 1970. She and her family moved to Italy where she attended The University of Foreigners. In 1973 Angela and family returned to the United States where she attended Wright State University and earned her bachelor's degree in anthropology and biology. After graduating in 1976 she returned to Italy to attend medical school and graduated as a medical doctor in family practice. After practicing medicine in Italy she returned to Yellow Springs in 1988 to care for her father, who was afflicted with cancer.
In 1992 she ran for the school board, and was able to serve as a board member for 20 years. In 1996 she married husband, David Spyridon. She stayed strongly involved in school and community activities, managed her family's rental homes and was co-owner of a recording studio with her husband David.
In 2010, she was diagnosed with cancer. She is survived by husband David Spyridon; her sisters, Maria-Valentine, Veronica and Natalie; brothers Martin and Jonathan; nephews Alexander and Andrew and niece Victoria; and her Labrador retriever, Lucy.
Flowers are welcome, as well as donations to Hospice of Dayton or the Humane Society.
Visitation is Friday, Aug. 28, 4–8 p.m. at the Jackson Lytle and Lewis Funeral Home in downtown Yellow Springs. Funeral service will commence on Saturday, Aug. 29, at 11 a.m., at the Clifton Presbyterian Church. Reception and lunch to follow.