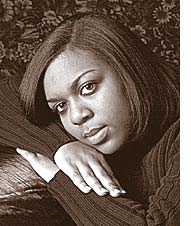 The flowers we place in remembrance of her may wither and decay, but the love we have for the one we lost will never fade away. God in His eternal wisdom has called her home to a place of peace.
Brittany Nicole Butler, daughter of Cheryl D. Butler, was born Sept. 28, 1988. She left us much too soon on Monday, Oct. 12, 2015, having blessed us a short 27 years.
Born in Columbus, Ohio, Brittany returned with her mother to Yellow Springs at the age of 3, residing with her grandmother, Mrs. Eloise M. Butler (Grammy) on Omar Circle (OCG!). In that close knit neighborhood she found love, encouragement and lifelong friendships. As a child she was surrounded by friends that she thought of as her family. Guided by her mother, her Grammy and Uncle Kaner, whom she lovingly referred to as "Uncle," Brittany gained a strong foundation in church, family and service.
A graduate of Yellow Springs High School and the Greene County Career Center, Brittany focused on her love of the culinary arts. Throughout Brittany's elementary and high school years, Brittany excelled at sports and music. As a key member of the girls' volleyball, basketball and softball teams at Yellow Springs High School she stayed active, and surrounded by friends. Her musical interests were encouraged with both piano and clarinet lessons, but our greatest joy came from her lovely voice. Her abilities with playing the clarinet were showcased when she and other members of Central Chapel A.M.E. formed a youth orchestra under YPD, named "God's Symphony." This very gifted five-member group was often requested to perform at area church events.
The lessons Brittany learned while regularly attending Central Chapel at a young age with her mother and devoted Grammy were beautifully expressed at the age of 20. Brittany unselfishly took on the responsibility of rearing an infant son, and did so for four joy-filled years. Brittany's love for Jacob was evident in the changes she made in her life in order to provide for her son. This labor was a reflection of her devotion to family and friends. They were absolutely everything to Brittany.
Brittany's gorgeous eyes, and infectious smile will forever remain in the hearts and minds of her devoted mother, Cheryl Butler, Dayton; son Jacob Hillsman, Columbus; beloved uncle Kaner (Stephanie) Butler Jr., Huber Heights; loving great-aunts, Mrs. Juanita Roberts, Colorado Springs, Colo., and Mrs. Emorial Mitchell, Thomasville, Ga.; godmother Jacquise Y. (Kevin) Jackson, Dayton; special cousins Sierra N. Butler, Kennedy A. Harshaw and Kaner Butler IV, all of Huber Heights; other cousins Derick Jackson and Jason Jackson, of Dayton, Kameon Hadley, of Thomasville, Ga., Brandon Thompson, of Cincinnati, Bryson Mitchell, of Atlanta, Ga., Briana J. Thompson, of Atlanta, Ga., Jordyn Bush, of Thomasville, Ga. and Kingston Jackson, of Dayton. Also cherishing her memory are three dear friends, Cheyenne Cox, Kysiah Favors, and Tiffany Wilkins, and a host of family and friends.
Brittany was preceded in death by her loving grandparents, Kaner Butler Sr. and Eloise M. Butler. Services for Brittany Butler were held Tuesday, Oct. 20, at Central Chapel A.M.E. Church, with the Rev. Dr. John E. Freeman officiating. Interment followed at Glen Forest Cemetery. Arrangements entrusted to Porter-Qualls-Dunlap Funeral Home.