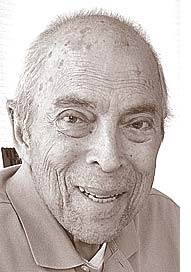 Ira Noah Anes, 84, died peacefully at his home on Thursday, Sept. 24, 2015.
He was born on June 19, 1931, to Benjamin Anes and Edith Anes (Lobell) in the Bronx, N.Y. Ira grew up in the Bronx with a strong group of friends, graduating from Taft High School in 1949. In high school, Ira was a class officer and voted most popular. He graduated with a bachelor's degree in business administration in 1954 from the City College of New York. In college he showed his skills in working with others, earning highest grades in field management. He met his future wife Louise Solomon at CCNY, and was proud of winning a competitive internship two consecutive times while there. In 1953, he joined the Army and married Louise and they started their life together, living at Camp Gordon in Augusta, Ga., where Louise began her long teaching career. While in the Army, Ira's developing skills in industrial engineering were recognized and he was asked to participate in the work of the Second Hoover Commission.
Through the rest of the 1950s and through the early 1960s, Ira took a number of jobs in various locations in the eastern U.S., each with increasing responsibilities. Ira and Louise's three children were born during this time.
Ira and Louise started JamiL Packaging Corporation in 1973 in South Bend. Ira guided the business to regional success and expanded to other markets, all the while maintaining the close personal relationships with his employees, customers and suppliers which were a personal hallmark. Ira was involved in a number of community, health and business initiatives and served in leadership positions for Temple Beth El and on the Snite Museum of Art Board, among others.
In 1994, Ira retired from JamiL after Louise's death. In 1996 he married his second wife, Sarah Anne Piser, and they began their long relationship and continued the traveling and social life which he had so enjoyed with Louise. Ira deeply enjoyed the expanded family life which accompanied his marriage to Sarah Anne. Being a grandparent was one of his greatest joys. For the past year, Ira faced his increasing health complications with vigor, determination, kindness, humor and grace. Ira was surrounded by family and friends and this was comforting and provided many wonderful opportunities for his storytelling.
Ira was preceded in death by his former wife Louise J. Anes, on Feb. 9, 1994.
Ira is survived by his wife, Sarah Ann Anes; children; Joy (Anes) Davis, and her husband, John Davis of Deerfield, Ill, Andrea Anes and her husband Bill Ackenbom of Columbus, Ohio and Michael Anes and his wife Heather Wright of Yellow Springs, Ohio. Ira's stepchildren are South Bend area residents; Aviva Wulfsohn and her husband Ian and Larry Piser and his wife Jessica. Ira's sister Helen Lane of Ardsley, N.Y. also survives him. Ira is survived by 12 grandchildren and three great-grandchildren.
The funeral was held Sept. 25 at 2:30 p.m. at Temple Beth-El, followed by burial at Rosehill Cemetery.
In lieu of flowers, donations may be made to the Louise J. Anes Memorial Humanitarian Fund of Temple Beth-El (soon to be renamed the Louise J. and Ira N. Anes Memorial Humanitarian fund) or the Center for Hospice Care or the American Cancer Society.
To send condolences to the family, please visit http://www.McGannHay.com.