Dorothy came to Antioch College in 1935 where she met her future husband, Douglas Scott. She graduated in 1940 and they were married in 1941, just before Doug was drafted into the army. During the war they lived in Fort Knox, Ky., where they started their family.
In 1952 they moved back to Yellow Springs with their children, Sherraid, Margie, David and Andy. Dorothy began working at Antioch College in 1961 in the extramural (co-op) department, where she spent more than 20 years before retiring. In 1962–64, she returned to school and received a master's degree in personal counseling from Miami University at Oxford, Ohio.
After retiring from Antioch College, Dorothy earned a certificate to teach English as a second language and embarked on a post-retirement career as a teacher of ESL in Fairborn and Yellow Springs.
Dorothy had a knack for taking interest in others and developed long-lasting friendships with many students she worked with through the years. She enjoyed visits from Antioch alums returning to Yellow Springs and served as an advocate and supporter for many of the Vietnamese and Cambodian families whom she met through ESL teaching.
Dorothy was an avid reader and tennis player. She began playing tennis at age 10 and enjoyed playing until she was 75 years old. In 1959, the Scotts bought a house on Allen Street that had a lot large enough to build a tennis court, which they did in 1961. The court was used by the entire community for weekend doubles with all ages and skill levels participating.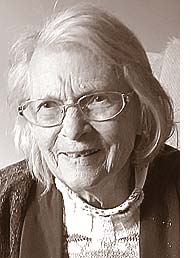 Dorothy was very active in the community, teaching tennis and swimming. She was also active in local and regional organizations and was a member of the Glen Helen Association, American Civil Liberties Union, Cooperative Education Association, Antioch Environmental Studies Center, the YS Community Children's Center Board and the Outdoor Adventure Girls.
She and Doug liked to travel to visit their far flung children in Florida, Oregon, North Carolina, Minnesota, Hawaii and Japan. She also traveled with friends and family to Japan, China, Wales, Scotland and Italy. Dorothy's last trip to Hawaii was in 2013 at age 95 when she went to Hanalei, Kauai. She and Doug had spent many winters there, staying at Mahamoku, the historic vacation house owned by the Grove Farm Museum. After Doug passed in 2008, Dorothy continued to live independently at the house on Allen Street until last May, when she moved into Friends Care Community.
In addition to her children, Dorothy leaves her "honorary daughter" Kim Rohmann; her sister, Marian; three grandchildren; five great-grandchildren and many other relatives and longtime friends who loved her and will miss her.
There is no memorial service planned at this time. Donations to Antioch College or YS Library Association in her name would be appreciated.
Dorothy ("Dot") Loveland Scott was born on Nov. 21, 1917, in Randolph, Vt., and raised in Burlington, Vt. Dorothy died peacefully on Nov. 4, 2015, after a short illness. She was just shy of her 98th birthday.