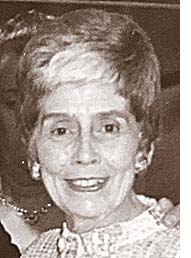 Elizabeth (Betty) H. Dawson, age 98, passed away peacefully on Sunday, Nov. 29, 2015. She was born in Greenville, Ohio, to the late Ora B. Harmon and Margaret Beam Harmon Sharp. She came to Yellow Springs at age 18 to attend Antioch College, and instead she met the love of her life, William B. "Bill" Dawson. They were married for 62-and-a-half years. They worked together with his first coal and then construction business. She was also an active realtor in the area for many years. In 1973 they bought the "Gate House" in Yellow Springs and spent many years remodeling, decorating and enjoying their home.
Betty was preceded in death by her husband, parents, step-father Arthur J. Sharp and brother Basil Harmon. She is survived by her daughter and son-in-law, Ann and John Finlay, of Xenia; grandsons and their wives, Robert D. and Sharon Finlay, of Cincinnati, and John A. and Angie Finlay, of London, Ohio; and great-grandsons Graham, William and Alec Finlay, of Cincinnati.
A visitation will be held on Thursday, Dec. 3, 2015 at Jackson Lytle & Lewis Funeral Home in Yellow Springs, beginning at 11 a.m. A graveside service will follow at Glen Forest Cemetery at noon. In lieu of flowers, contributions can be made to Hospice of Dayton Foundation, 324 Wilmington Ave., Dayton, Ohio 45420 or Greene Medical Foundation, 1141 N. Monroe Drive, Xenia, Ohio 45385.