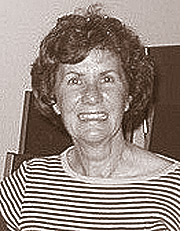 Carol Ellen Dixon, age 78, of Hot Springs, N.C. left this world peacefully on Sunday, April 23, 2017, at home.
Carol was born on Nov. 12, 1938, in Dayton, Ohio to Phyllis (Miller) and Harold Parkison. After graduating from Patterson co-op high school, Carol began studying at Bowling Green University. She met and married her beloved husband of 57 years, Robert Dixon. She and Bob settled in Yellow Springs to raise their family. Carol returned to her studies, graduating from Ohio's Wright State University with a bachelor's degree in nursing and then a master's degree in community nursing from Ohio State University.
In the early 1970s, before her career as a nurse, Carol was an instructor in the Lamaze method of natural childbirth, and many local children were born to mothers who had studied with her.
Carol was an early pioneer in hospice care, joining Betty Schmoll, a Wright State University classmate who founded the non-profit Hospice of Dayton in 1978, in one of the earliest communities in the country to offer hospice care. Carol's dedication to Hospice of Dayton influenced the concept and importance of hospice care throughout the U.S. and saw the Hospice of Dayton facility grow from a storefront to the present day campus on 17 acres with in-patient care and beautiful grounds for the patients and their families.
After retiring in 1996, Carol and Bob moved to a farm in Hot Springs, N.C. Carol was an award winning author of poetry and short stories and remained active with many professional and community organizations in western North Carolina, serving on the boards of several governmental and volunteer agencies in the county.
Carol is survived by her mother, Phyllis Jones, of Springfield, Ohio; husband, Robert, of Hot Springs; sister Barb Shears (Bill) and brother Don Parkison (Sharon), of Dayton; sister Jane Clark (Keith), of Kill Devil Hills, N.C.; son Dan (Sherryl) and daughter Ellen Harding (Mike), of Yellow Springs; son Peter (Mary), of Hot Springs; grandchildren Elizabeth Starr (Mike), Olivia, Josey, and Eliot Dixon and Katie Harding; great-grandchildren Jude and Colin Starr; and nieces and nephews.
Carol was an inspiration not only to her beloved family, but to a generation of women searching to create a life fulfilled by family and career. A Celebration of Life will be held for Carol at the Last Adventure Farm, located at 505 King St. in Yellow Springs, on Sunday, May 21, 2–6 p.m. Please feel free to bring along a dish to share.
In lieu of flowers, monetary donations can be made in Carol's name to:
Hospice of Dayton, OH 324 Wilmington Ave Dayton. OH 45420 or to the Betty Schmoll and Carol Dixon Endowed Scholarship for Leadership Thru Nursing — contact Wright State University School of Nursing and Health, 937-775-3131.