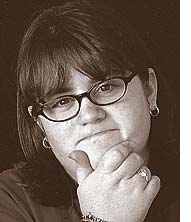 Meghan Rose Murphy, 31, of Yellow Springs, passed away on April 30, 2017.
Meghan was born Sept. 12, 1985 in Evanston, Ill. to Chris and Susan (Mahoney) Murphy. She succumbed to complications brought on by her lifelong struggle with Turner's syndrome. We remember Meghan as an avid reader, movie lover and someone who petted every cat she saw. Many a walk to work was delayed to visit with a kitty. She was a great trivia and "Jeopardy" partner, sure to provide the answer for any literary question. She loved the Yellow Springs Library and worked there for 12 years. Many of you probably know her from her job at the library.
Meghan loved to make origami stars. She found it soothing and a way to be mindful. She made thousands of stars; many themed with special paper depicting some aspect of Japanese pop culture. Special friends received little jars of stars as a present from Meghan. Meghan spent a school year volunteering at the Trailside Museum in the Glen Helen preserve. She loved feeding the snake and the three-legged turtle, Tripod. She did her best to assist visitors and keep the museum clean and presentable for the visiting public.
Meghan was a graduate of the Yellow Springs Schools and Wright State University. She was honored to start Wright State on a scholarship she was awarded for students with learning challenges and, even though it took 10 years, she persisted, and graduated with a degree in English. She was forever grateful to her teachers and tutors who supported her educational journey.
Her parents, Susan and Chris Murphy, of Yellow Springs; her sister Amy and Joe Savino and brother Toby and Bridget Hollingsworth, of Colorado Springs; her aunt Patricia Chambers and her partner Jerri Henderson, of Dayton; Kevin and Lisa Murphy, of Manchester, N.H.; David and Teresa (Mahoney) King, of Springfield; Gina (Mahoney) Tyeryar, of Williamsburg; and many nieces, nephews and cousins survive Meghan. A visitation will be held on Friday, May 5, 4–7 p.m., at Conroy Funeral Home. Funeral service will be held on Saturday, May 6, at 11 a.m. in the funeral home. Burial will be in Calvary Cemetery. Memorial donations may be made to the Yellow Springs Library Association.