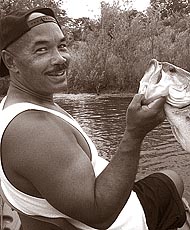 Charles T. Sampson, III (Teddy) was born Sept. 6, 1952, at Greene Memorial Hospital to the union of Charles T. Sampson Jr. (deceased) and Marcella A. Sampson (Mayo), and was a native of Yellow Springs.
Ted had four sons, Charles (Alisha) T. Sampson IV, Brad J. Sampson, Chris (Grace) A. Sampson and Tyler J. McDermott; sisters Marcia (Fred) D. Sampson and Joyce (Robert) R. Spencer; granddaughters Alexis C., Hani D. and Isabella E. Sampson; grandson Bradley C. Sampson; nephews Branden (Courtney) W. Nedd, Sr. and Brian K.Nedd; great-nephews Branden W. Nedd, II and Elijah A. Nedd; great-nieces Nadia M. and Giana M. Nedd; and a host of other relatives and friends.
Charles was an alumnus of Central State University, Class of 1974, where he graduated with a B.S. in accounting. He also received an M.B.A. in finance from Howard University, Class of 1976.
His professional achievements included work as a financial executive at General Motors; assistant controller at Kenner Toys; chief financial officer at Wallpapers-to-Go; president/owner of the Gahanna Fitness Club; president of Crystal Engineering; assistant professor at Central State University; president of Ready-To-Go! Generation, LLC.; and chief operating officer at PopzTopz.
… But for those of us who truly knew Dapper Ted, you'd see he was always dressed to a "T"… From the matching socks and shoes to the coordinating tie, he was sure to catch your eye. Rain, sleet or snow … Ted was always Ready to Go!
Ted met no strangers. His warm and charming personality stood out among all the rest … and oh, that gift of gab, let us not forget.
He was always there to build people up …from bench pressing and cardio, Ted never gave up.
He made all believe that they could reach for the stars … that their goals were obtainable … and they were never too far.
Ted loved to fish and walk in the Glen, whether it be with his grandchildren or next of kin. His love was a bond that could not be broken; although he is gone he will not be forgotten. Services were held on Monday, Nov. 27, at Greater Grace Temple. Arrangements entrusted to Porter-Qualls-Robinson Funeral Home.