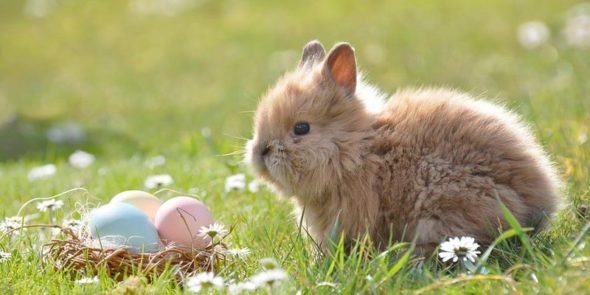 Hop on down the bunny trail
This weekend features one new and one long-held dyed-egg hunt in the Yellow Springs area.
New this year is an event at Glen Helen Nature Preserve, which will host a "Bunny Visit and Egg Hunt" at 2 p.m. Saturday, March 31, "in the woods."
After a presentation about rabbit ecology, featuring an animal guest, children will search the grounds around the Trailside Museum for eggs dyed in natural camouflage colors. Hunters who find the golden eggs get a special surprise. Participants are asked to bring their own basket.
All ages are welcome, though the hunt is limited to 20 participants. Cost is $5 for Glen Helen members and $15 for nonmembers. Registration is required beforehand: https://www.eventbrite.com/e/bunny-visit-and-egg-hunt-tickets-42943792038.
The following day, Sunday, April 1, Young's Jersey Dairy will host its 36th annual Easter Egg Hunt on the dairy grounds.
As is Young's tradition, the operation will have more than 7,000 dyed, hard-boiled eggs prepared for the annual event.
Participants will be divided into three age groups — 4 and younger, 5–7 and 8–10 — with each age group having its own time slot. The event will open with the youngest group starting "promptly" at 2 p.m. The middle group begins at 2:20 p.m., and the final hunt for the oldest group starts at 2:40 p.m.
Organizers suggest that participants arrive 10 to 15 minutes before your age category, so you have time to find the line and get ready to go. Barnabe, the Young's mascot also will be present and available for family pictures.
The Young's hunt is held rain (or snow) or shine, and admission is free.
YS News has not been able to confirm whether the traditional egg hunt at Gaunt Park, sponsored in the past by Central Chapel AME Church at 2 p.m. on the Saturday of Easter weekend, will be happening this year.