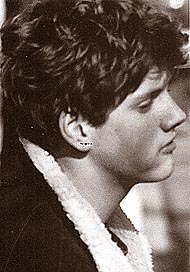 On March 27, 2018, just a little after 1 a.m., Nate passed away from blood clots in his lungs. Our doctor said he went fast, with no pain. He died at home, with his mom by his side. He was just 46 years young.
The late Jim Johnson would call Nate "Mr. Yellow Springs" because Nate was always helping someone out or "supervising" whatever was going on in the village. Nate was a state-trained nurse assistant, or STNA, working for CIC America in Beavercreek. He loved working there and loved taking care of people, as he had done his entire life.
Missing him will be his mom, Peggy Barker; and his brother, David Barker. His late father was Richard D. Barker, but the man who was there for him was the late David L. Harbin, David's father.
Also missing Nate are his nieces, Georgia Gaskins and Victoria Watkins, and other nieces, nephews, aunts, cousins and friends. He loved them all, as they loved him.
Folks would say to Nate, "You take great care of your mom."
Nate would always reply: "Yes, because she always took such good care of me."
Nate loved people, he loved life. Mr. Yellow Springs will be missed.
Services will be held on Sunday, April 22, at 2 p.m. at First Presbyterian Church, located at 314 Xenia Ave. in Yellow Springs.