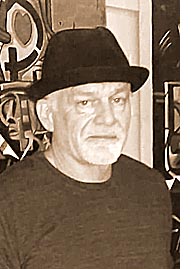 Bucky Allen Truitt was born May 28, 1947, in Maysville, Ky., the son of Russell Clinton Truitt and Nel Presley. As a newborn, he developed pyloric stenosis and underwent a successful, though anesthesia-free surgery that saved his life. This was one of many challenges he would overcome in his lifetime.
Buck grew up in Seaman, Ohio, playing sports and driving cars. He graduated from Seaman, where he was a decorated baseball and basketball player, in addition to being a track star. His father was grooming Buck to be a professional baseball player and he played minor league ball for a short time. After a year in college at Ohio University, he joined the Navy and fought in the Vietnam War on an aircraft carrier. As a soldier, he was able to travel the world, but as a human, he wasn't able to be a soldier. He became a conscientious objector to the war and was sent to military prison, eventually released with an honorable discharge. His time spent in the military and in military prison had a profound impact upon his life.
He spent several years in California and Colorado before he returned to Ohio and settled in Yellow Springs. He arrived in 1974 after the Xenia Tornado in the hopes of using his construction skills to find work after the devastation. He married Diana Jenkins and became a father to her daughter, Angela Thomas. The three of them moved to Charleston, S.C. There he earned an associates degree at Trident Technical College. While in South Carolina, Buck studied martial arts and earned his black belt. He was not only a student of the martial arts; he was a teacher of the arts.
He and his family moved back to Yellow Springs and grew their family with the arrival of Adam, and less than two years later, Justin. While raising his new family, Buck attended Wright State University and eventually earned a Bachelor of Arts degree in anthropology, graduating with over 500 credit hours, some of which were earned at Antioch McGregor on the campus of Antioch College.
With his knowledge and skills for remodeling and construction, Buck worked at Greene Metropolitan Housing Authority (GMHA) for 13 years as a housing inspector. There he met receptionist Valerie Ann Blackwell. After Diana and Buck ended their union, he married Valerie Ann a few years later, and soon they had a son, Kyle, who was blessed to have a big sister and two big brothers.
After Greene Metropolitan Housing Authority, and working at several other housing authorities in southern Ohio, Buck eventually worked for himself, and was co-owner of J&B Construction. In 2005, Buck had an idea to start a garage-style gym because he was no longer interested in working construction. At that time he had suffered from pancreatitis, which left him hospitalized for three weeks.
Buck wanted to have a career where he could use his skills as a martial artist, and leverage his training and discipline to teach, inspire, encourage and help others. After almost two years of research, training, becoming a certified strength and conditioning coach and personal trainer and securing funding and equipment, with great pride, accomplishment and satisfaction, Buck opened the Posterior Chain, LLC on 17 June, 2007. Eleven years later, he continued working as a personal trainer at his gym, challenging clients with compassion and purpose. He was an avid weightlifter almost to the end, deadlifting 455 pounds on his 70th birthday.
Throughout the smooth and tough times, Buck's love, care, commitment, loyalty and devotion to and for his family was always a constant. His resiliency, strength, courage, commitment and dedication were always present. Buck used his instincts, knowledge and experiences to live life on his terms.
He coached a variety of age and skill level sports teams, including soccer, basketball, baseball and little league for many years and served as the Yellow Springs Little League Commissioner. He enjoyed success in sports the most when it came in the face of "good ol' boy" intolerance.
Buck was a patron of the arts. He enjoyed music, dance, film, theater and, of course, visual arts. He enjoyed various types of music, from classical to country, and soul to bluegrass. He had an eclectic music collection and always played classical music on Sunday mornings at home to wake up his sons. Buck performed in numerous dance concerts using his martial arts skill and talents. Buck and Valerie appeared in duets and group works in the annual Valerie Blackwell-Truitt Community Dance Concert (VBTCDC), Antioch College Dance Concerts and The Performance and Time Arts Series in Cincinnati. When Buck was not performing, he was always behind the scenes of the Community Dance Concerts to ensure their successes. He was a talented, prolific self-taught painter, pushing boundaries with his subjects and style. He preferred painting with oils on canvas, although he also used wood and paper. He loved to explore Glen Helen and John Bryan, often incorporating their landscapes into his work. Throughout his painting career, Buck always had an eye for color, depth, dimension and intersectionality. In his words, he believed that "What appears on the surface of a painting are the traces of movements which have stepped out of the unknown. To paint is to record evidence of one's own life and experience, the deepest thoughts on life and living, death and dying."
Buck's work is currently on exhibit at the Yellow Springs Brewery through Aug. 19, 2018. Previously, his paintings were featured at galleries, including, but not limited to, the Dayton Art Institute, the Herndon Gallery at Antioch College, the Foundry Theater at Antioch College, Wright State University, Rosewood Art Gallery, Sam and Eddie's Open Books, El Diablo Gallery, Massillon Museum, ROYGBIV Gallery and Project 30. He has paintings with collectors from London to South Africa and also within the United States. He was featured in the Dayton Voice "Artist on the Edge" and in different interviews with the Yellow Springs News over the years. His painting can be seen at the Posterior Chain, LLC.
Our darling husband and father died on Thursday, Aug. 2, 2018, after a battle with pancreatic cancer, with his devoted wife and son Kyle at his side. Buck was preceded in death by his father, Russell Clinton Truitt; his father-in-law, Harold Benson Jerry Blackwell, Sr.; his mother-in-law, Anna Clara Gee Blackwell; his brother-in-law, Barrett Eugene Blackwell; and his father-in-law, Carlos (Mary) Jenkins. He is survived by his wife, Valerie Ann Blackwell-Truitt; daughter Angela Jones, of Yellow Springs; and sons Adam Jenkins Truitt, of Yellow Springs, Allen Justin (Laura) Truitt, of Spokane, Wash., and Kyle Matthew (Liz) Truitt, of Yellow Springs. He is also survived by his mother, Nel Truitt Randall, of Ripley, Ohio; grandchildren Desmond and Madeline Truitt, of Spokane, Wash.; first wife Diana (Mark) Partee, of Yellow Springs; two sisters, Sue (Mel) Berry, of West Chester, Ohio, and Candee (Gary) Basford, of Seaman, Ohio; two brothers, Mike (Sherry) Truitt, of Decatur, Ohio, and Andrew Truitt, of West Union, Ohio; sisters-in-law and brothers-in-law Nisa Blackwell-Turner, of Springfield; Cynthia LaVerne Blackwell, of Framingham, Mass.; Harold Benson Jerry (Cindy) Blackwell, Jr., of South Pasadena, Calif; and a host of nieces, nephews and cousins.
For those who knew Buck and wish to join the family, a celebration of Buck's life and a potluck are planned for Saturday, Aug. 11, 4–7 p.m., at the Wirrig Pavilion.
Thank you, Porter-Qualls-Freeman Funeral Home of Springfield, for your loving care.