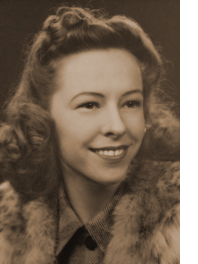 Julietta H. Kennedy, formerly of Springfield, passed away peacefully on Sunday, July 29, 2018. She was 98.
Julietta was born on March 15, 1920, in Peoria, Ill., daughter of Frank and Minnetta Walker. She is survived by her beloved daughter, Julane Chaney; grandson, Justin V. (Marlo) Chaney; great-grandsons, Brae J. and Tyler V. Chaney; and nieces and nephew, Sue (Jerry) Brinker, Terri (Bill) Rogers and Joe (Karen) Kennedy. She was preceded in death by her parents, her loving husband, George John Kennedy, and sister, Bobette Stolp.
Julietta was a member of Covenant Presbyterian Church in Springfield. She attended Illinois University and retired from Prudential Life in Springfield where she was the office manager for many years. She was a very creative woman who loved reading, painting and drawing.
Viewing will be held on Thursday, Aug. 2, 1:30–2:30 p.m. at Jackson Lytle and Lewis Life Celebration Center, located at 2425 N. Limestone St., Springfield. A graveside service will immediately follow at Ferncliff Cemetery, with Pastor Stan Gockel officiating.
Julietta's family would like to extend a special thank you to the staff at Elmcroft of Xenia and Hospice of Dayton for the compassionate care they provided. Condolences may be expressed to her family by visiting http://www.jacksonlytle.com.