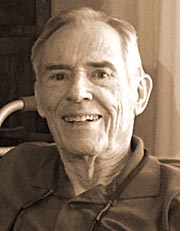 Roger Hamilton Leuba II passed away at his home in Providence, Utah, at the age of 85 on Oct. 10, 2018, after a short bout with cancer. It was a beautiful fall morning, with the sun streaming in the bedroom window, filling it with light, warmth and peace.
Roger was born Nov. 23, 1932, in Xenia, Ohio. He was the fourth of six children born to Clarence James Leuba and Frances Eddy Briggs Leuba. He grew up in Yellow Springs, where his father taught at Antioch College. He graduated from The Antioch School and Bryan High School (class of 1950), and attended college at Miami University in Oxford, Ohio.
Roger married Alice Hoffman, of Yellow Springs, on Dec. 25, 1949, and they had five daughters: Nancy Ann, Katheryn Lynn, Elaine Frances, Ann Hamilton and Alison Gillam. They divorced, and he later married Carol Ann Britton Gomes on May 13, 1960 — his wife of 58 years. They had three daughters, Carrie Beth, Sharon Kay and Laurie Ann, and a son, Roger Hamilton Leuba III, all of whom survive him. He is also survived by 28 grandchildren and 31 great-grandchildren; his four siblings, Richard (Dick) Leuba, Edward (Ted) Leuba, Elizabeth (Betsy) Leuba Petersen and Katherine (Kathy) Leuba Burlitch; and numerous nieces, nephews and cousins.
During his working years, Roger was in business and sales and ran his own hardware store for seven years. He loved to travel, visiting all 50 states during his lifetime. Roger was a happy, caring, fun-loving man. His greatest joy was doing things with and for his family, especially camping and hiking, when, for him, everything was spectacular! The mountains, spectacular! The flowers, spectacular! The streams, spectacular! The view, spectacular! Playing tennis and pool with friends, leading singing at the Senior Center and rolling around on the floor with his grandkids and great-grandkids brought him great happiness.
Roger was a very kind man who loved helping others and was always the first to offer assistance in times of need. During the mudslides in Farmington, Utah, in 1983, he and a neighbor were in charge of the entire cleanup operation. He was a volunteer for Options for Independence, driving people — most of them younger than he — back and forth to Salt Lake City. His children and grandchildren literally can't remember a time when they asked him for help that he didn't say, "I'll be right over." In fact, he'd say, "I'll come right now," and was told, "No, in an hour is fine." But he'd be there in 10 minutes. He jumped at the opportunity to provide service to everyone and always had the physical and mental strength of a man 15 years younger than himself. He delivered for Meals on Wheels right up until his diagnosis with cancer, as he had no symptoms of the cancer, and passed 28 days from the first sign that something was wrong. The greatest legacy he will leave his family, aside from his great love for them and the outdoors, is his unmatched selflessness.
So we say to you: Happy trails, "Da!" And aren't they spectacular!
A memorial service will be held Saturday, Nov. 3, 11 a.m.–noon, at Logan Golf and Country Club, located at 710 N. 1500 E., Logan, Utah.