Kenneth Edward Livingston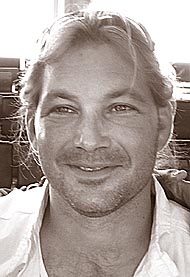 Kenneth "Kenny" Edward Livingston passed away tragically on Thursday, Dec. 13, 2018, in Yellow Springs, Ohio.
He was born on Aug. 6, 1978, to his proud parents Betty and Hugh Livingston. He was preceded in death by his father. He is survived by his daughter, Audree; wife, Heather; mother, Betty; brother, Eric; and sister, Kathryn Livingston, as well as Murray, Livingston and Marsh extended family members — cousins, uncles and aunts.
Kenneth grew up in Yellow Springs and attended Yellow Springs public schools. After high school, he moved to California for a few years and picked up a real love for scuba diving and being a DJ with his dear friend. When he returned to Yellow Springs, he attended school in Cincinnati to learn to work on cars. He also used to dabble in the kitchen, experimenting and preparing wonderful meals.
Ken's strongest passions were working on vehicles, welding, or repairing anything that was broken. In his free time, Kenny loved to relax, either playing video games or just rapping and hanging out with his friends. One of his favorite things to do was being outdoors with his wife and daughter.
Kenneth was a truly loving father, a devoted husband, a dedicated son, and a kind–hearted and playful brother. He always had a big smile on his face and a hearty laugh to go with it. No matter what was going on around him, he had the ability to put a positive spin on any situation. He was a very loyal friend and fiercely protective of his family and everyone close to him.
Kenneth was a hard worker, a problem solver, a creative thinker and an abstract collector of all things with future potential. In his eyes, almost everything had potential. He invested his time and resources into helping his neighbors, friends and family members.
Kenneth was true blue. He was the salt of the earth, and he was the spitting image of his father (Huey), and shared his zeal for life as well as his dedication to his community. 
Kenneth always loved being on the go, he didn't like to stay still for long. He had to be in motion. Kenny gravitated toward good energy and good times with family and friends. His number one priority in life was his daughter. He was able to squeeze the most out of every day.
Unfortunately, his life was cut way too short, but he lived a full life in a caring and connected way — and we will all miss him dearly. "Goodnight Sweet Prince."
His family will be hosting a "Celebration of Life" at the Glen Helen Vernet Ecological Center at a date still to be determined.