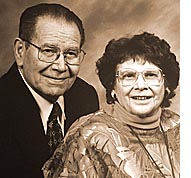 Our dear, sweet mother, (Norma) Jean Lineburgh (nee Cornish), passed away peacefully on Thursday morning, Dec. 27, 2018, at home in Yellow Springs. Jean was 94, born May 1, 1924.
Her daughters, Nancy and Evon, have taken care of her since 2011 when her husband, Louis Lester Lineburgh, lost his battle with congestive heart failure. Her daughter, Jean Ann, has provided loving support all along.
Jean spent her last days enjoying coloring, jigsaw puzzles and Shirley Temple movies. Her battle was dementia. Her children were fortunate to be able to take care of her to the end of her life, first in Lakewood, Ohio, and then in Yellow Springs.
Jean grew up in Uniontown, Pa., and moved to Lakewood in 1958. When her daughters were young, she sewed fancy dresses with ruffles for them. Later, she earned bachelor's and master's degrees in education. During her teaching career, she was an elementary classroom teacher, then a high school special education teacher for the Cleveland City Schools. Teaching special education students was a true mission for her, including tutoring reading for 10 years after she retired. She worked above and beyond the call, creating Girl Scout troops for her students and making sure they had equal access to school equipment. She taught many of her students to read using a 25-lesson review of phonics she created and having them practice writing words with red flair pens on yellow paper. Jean also had her own approach to teaching math facts. She was a true innovator as an educator.
Jean and Lou spent many happy hours together traveling the country in their Cessna airplane. Besides short local trips, they flew to the west coast and to Alaska. They were also active in the Lakewood Presbyterian Church, where she was a Sunday school teacher and a participant in their clown ministry.
Jean was preceded in death by her husband, Louis; her sister, Mildred Cornish Hobaugh; her two brothers, Harry and John Cornish; and her parents, Mildred Terry and Emmett Cornish. She is survived by her brother, Homer Cornish; her three daughters, Nancy and Evon Lineburgh and Jean Ann Thorne; her grandchildren, Julie Lineburgh, Nick and Mike Rossetti, and Sophie Ward; and her great-grandchildren, Francesca, Lidia, Rocco and Jimmy Rossetti.
The family will be eternally grateful to Trish Russell, Jean's caretaker, and Hospice of Dayton, who provided loving care to the end. Jean will be missed.
Condolences can be sent to 202 Allen St., Yellow Springs, OH 45387. Contributions in Jean's name can be sent to the Lakewood Presbyterian Church at 14502 Detroit Ave., Lakewood, OH 44107. Memorial services will be held in Yellow Springs and Uniontown at a later time.