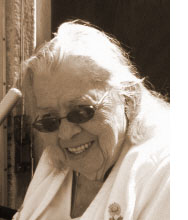 Sept. 22, 1919—April 23, 2019
Rosalyn died surrounded by love. Born in Catawba and raised in London, Ohio, she spent her early life with her twin, Rosenni; three older brothers; and a younger sister. After graduating from London High School, Rosalyn attended Cedarville College, where she tutored her future husband in Latin.
Rosalyn earned her teaching certificate in 1939 and began teaching elementary school, first in Pitchin, and later in Jamestown and Lewisburg, all in Ohio. She and Victor had to be secretly married, as female teachers in those days were not allowed to be married. They were later married publicly by Victor's Uncle Edward in Philadelphia.
When Victor joined the Army and was stationed in Fairbanks, Alaska, Rosalyn moved to Nevada to be closer to him. There she worked on airplane assembly, earning her the family nickname of "Rosie the Riveter," and also taught school.
In 1945, Victor and Rosalyn moved back to Yellow Springs and started their family— Bonnie, Russ and Vicky. When the children were young, she babysat during the day and sewed doll clothing to make a little money.
In 1952, Rosalyn began teaching at Mills Lawn Elementary, where she remained until her retirement in 1991. She was awarded teacher emeritus. During those years, she continued her education, graduating from Wittenberg University in 1959 and taking master classes at University of Dayton.
Rosalyn loved her family and all children as well as those less fortunate. Before her eyesight failed she enjoyed reading, and was an avid crocheter and knitter, making beautiful things for family and friends. She also made preemie hats for local hospitals, scarves for soldiers, afghans for Warm Up America and made over 150 afghans for veterans.
Rosalyn was preceded in death by her parents, Floyd and Mary Guthrie; her husband, Victor; her daughter, Vicky; and all her siblings. She is survived by her children Russ (Ann Dunlap) and Bonnie (George West); granddaughter, Erin (Chris Oke); and many nieces and nephews.
In lieu of flowers, donations may be made to the children's department of the Yellow Springs Community Library. A celebration of life will be announced later. Heartfelt thanks to Hospice of Dayton and Friends Care of Yellow Springs.
Rest in peace, Mama. You are loved.