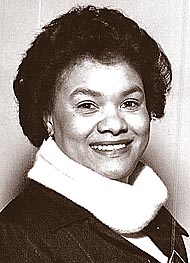 Yvonne E. Perry, 80, of Yellow Springs, passed away Friday, July 5, 2019.
Yvonne was born May 7, 1939, in Dayton, the daughter of the late John and Alberta (McCauley) Montgomery. She was employed by JCPenney for many years as a beautician. She was a member of the East Dayton Church of Jesus Christ of Latter-Day Saints, and she enjoyed flowers, oil painting and crafts.
In addition to her parents, she was preceded in death by her husband, Kingsley; and three brothers, John, Jr., Richard and Albert. Yvonne is survived by her three children, Kingsley III (Roberta) Perry, Mark Perry and Deneen Perry; six grandchildren, Levi Perry, Neil Kingsley Perry IV, Koto Perry, Brandon Fry, Natasha Perry and Devon Perry; two sisters, Shirley (Danny) Peoples and Johnna Montgomery; as well as great-grandchildren and extended family.
A funeral service was held on Wednesday, July 10, at the Belton-Stroup Funeral Home in Fairborn. In lieu of flowers, memorial contributions may be made to the Alzheimer's Association. Condolences may be shared at http://www.beltonstroup.com.