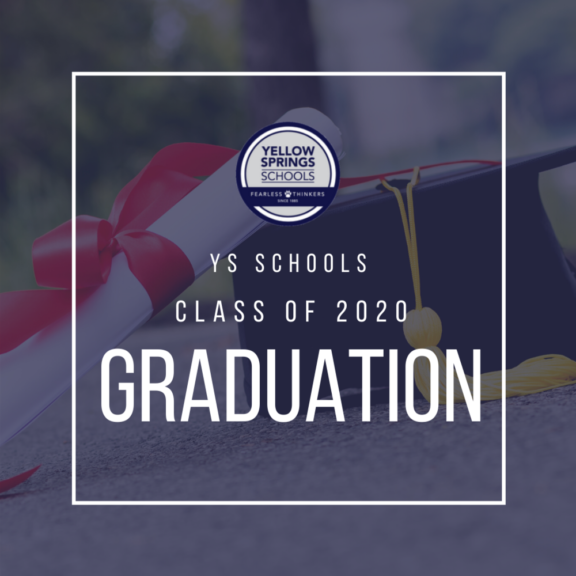 YSHS plans 'drive-in' graduation
While every graduation is memorable, the Yellow Springs High School class of 2020 will have a commencement like none other in the school's history.
With school campuses closed through the end of the academic year — as ordered last month by Ohio Gov. Mike DeWine in response to the COVID-19 pandemic — Yellow Springs school district announced Friday, May 8, that 2020 graduates will nonetheless get a public ceremony that follows social distancing guidelines.
The two-part recognition will take place the evening of Wednesday, May 27.
Festivities will begin at 8 p.m. with a "clap out" car parade of graduates and family members driving through the village, followed by an outdoor "drive-in" ceremony in their vehicles in the parking lot at Antioch University Midwest (AUM).
The parade will lineup at the high school, proceed through the village and conclude at AUM, according to a press release from the district. There, the ceremony will be displayed on a 45-foot screen for graduates and their families to watch from their vehicles. The names of the two traditional student speakers will be announced next week, according to Yellow Springs High School Principal Jack Hatert.
For the awarding of diplomas, graduates' names will be read as they drive past the screen and are handed their diplomas by Principal Hatert. The ceremony will conclude with graduates simultaneously moving their mortarboard tassel from the right to the left side of their cap.
"Graduation is a celebration of not just a student's hard work and accomplishments over the last 13 years, but also the bright future ahead," Hatert stated in the release. "Our staff is committed to a meaningful celebration of these students and their achievements."
According to Hatert, 61 students are set to graduate this spring.
In addition to commencement plans, the district is recognizing the class of 2020 with congratulatory yard signs, which were delivered Friday, May 1, and banners that will soon be displayed in downtown Yellow Springs.