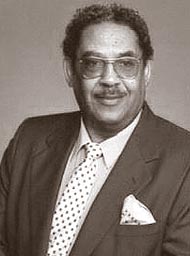 Charles Benning departed this life on Saturday, Jan. 9, 2021. He was 97.
Charles was born on May 18, 1923, to the union of Chester W. Benning and Helen L. (Cassell) Benning. He had four brothers, Chester Jr., Reginald (Neal), Andrew (Andy) and Donald (Donny Boy); two sisters, Margetta (Bonnie) and Margurite (Simmie); and a son and daughter, Ronald (Butch) and Patricia (Pat), all of whom preceded him in death.
Charles wanted to fight for his country, and at the age of 17, he decided to drop out of high school to join the United States Army, only to be turned down because of his race. However, three months later he was drafted, and he served in World War II and continued working with the United States Army for over 40 years. He was stationed in several countries, including Germany, England and France. As an African American in the United States military, he endured extreme abuse and was highly mistreated.
Upon returning to the United States, he met and married Vera Berry, and they had three children, Patricia, Ronald and Daniel (Danny). He later married Ernestine Martin and was instrumental in raising her son, Vernon Hines. Charles was a dedicated member of Central Chapel AME Church in Yellow Springs, where he faithfully attended Sunday School and Bible Study and was elected as a trustee of the church, where he also served faithfully. He also played a major role in the completion of the church's Family Life Center. A precious moment in his life was receiving his high school diploma from Yellow Springs High School on May 25, 2015, at the age of 92.
Charles is survived by two sons, Danny Benning (Denise) and Vernon Hines (Susan); three granddaughters, Bernice and Danielle Benning and Tracie Steele; three grandsons, Sean and Ronald Jenkins (Shynita) and Travis Hines; 10 great-grandchildren; and one great-great-grandson who he was crazy about; he loved to tell people he was blessed to see his fifth generation.
"For we brought nothing into the world, and we can take nothing out of it."—1 Timothy 6:7
"The Lord gave and the Lord has taken away. Blessed be the name of the Lord."—Job 1:21