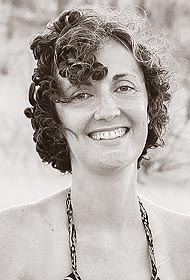 Meredith Hartnagle Carpe died peacefully in her sleep at her family's home in Greenville, Ohio, on Jan. 3, after a three-year battle with breast cancer. She was 39.
Meredith is survived by her husband, Ryan Carpe, 38, of Yellow Springs; her children, Naomi, 7, and Havah, 4; her parents, Terry and Becky Hartnagle, of Greenville, Ohio; and sisters, Emily Stall, of Wyoming, Ohio, and Rachel Williams, of Anderson, Ohio.
She was preceded in death by her grandparents, Mike and Jean Louise Thieme and Ivan and Rita Hartnagle.
Meredith was born on Aug. 21, 1981, in Greenville. She graduated from Ohio University with an undergraduate degree in liberal arts, specializing in French, and from the University of Cincinnati with a master's degree in social work, specializing in gerontology. After college, she taught English in France for two years while traveling abroad and exploring much of Europe.
She married Ryan Carpe after meeting him at a mutual friend's social gathering in Columbus. They lived in Athens, Ohio, for two years before being married in Krohn Conservatory, Cincinnati, on Sept. 24, 2011.
Meredith leaves behind two loving daughters, Naomi Kathleen and Havah Louise. Her children remember her as a strong, gentle, patient, loving, smart and dedicated mother, who poured herself into her family. As a result, they are and will continue to be confident, strong, loving children, just like their mother.
Prior to her illness, Meredith worked as a social worker and counselor in numerous local organizations, including Hopewell Counseling in Southeast Ohio, Council on Aging of Southwestern Ohio in Cincinnati, State of the Heart Hospice in Greenville, and Family Services of Dayton, Ohio. Meredith was an accomplished musician, playing the piano, flute, guitar and singing vocals, ensuring her house was filled with music and dance. She was an active and dedicated member of the World House Choir of Yellow Springs, and loved spreading musical messages of love, peace, diversity and justice. She was an avid reader, and also enjoyed long walks with her children in the nearby Glen Helen Nature Preserve and John Bryan State Park.
Per Meredith's wishes, an immediate funeral is not scheduled due to the COVID-19 pandemic. However, a celebration of life will be scheduled in the spring/summer, depending on conditions. In lieu of flowers, please send donations to the World House Choir at worldhousechoir.org/donate/.