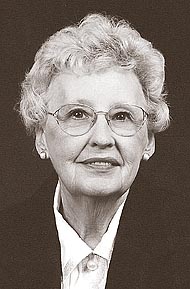 Cloris Virginia "Ginny" (Gooby) Ferguson, of Cedarville, passed away Feb. 3, 2021, at Friends Care Center in Yellow Springs. She was 93.
Virginia was born in Columbus, Ohio, May 26, 1927, the daughter of Harry Bennett and Alice Winifred (Otte) Gooby, both deceased. Her husband, William Stormont Ferguson, whom she married on Sept. 2, 1949, died on July 2, 2000.
She is survived by sons David (Lee) Ferguson, of Yellow Springs, Paul (Cathy) Ferguson, of McDonough, Ga., and Philip (Chong) Ferguson, of Albuquerque, N.M.; a daughter and son-in-law, Suzanne (Chas) Leach, of Jamestown; nine grandchildren, Jason Good, Jennifer Good Myers and husband Barry, Benjamin Ferguson and wife Elyse, Brian Ferguson and wife Marsha, Ian Ferguson, Ellen Ferguson, Andrew Ferguson, Christen ("Peeper") McDonald and husband Ben, and John Warner; six great-grandchildren, Lincoln and Avery Myers, Lola Ferguson, and Kendall, Caleb, and Grayson Ferguson; and a sister and brother-in-law, Judy and Dick Sauter, of Colorado Springs, Colo.; as well as several nieces and nephews.
In addition to her parents and husband, Virginia was preceded in death by siblings Ben, Bob, Sally and Jane; sisters- and brothers-in-law Jean Ferguson Shaw, Pauline and Elwood Shaw, Catherine and William Kyle, Nancy and Lee Evans, George Wolfe, Jim Casey and Fred Marsh; niece Sally Jean Evans; and great-nephew Matthew Casey.
Virginia was a member of the Clifton United Presbyterian Church where she served as a Sunday school teacher, as a member of the choir and Women's Association, and as a deacon for several years. She also worked as a cook for Cedar Cliff Schools for more than 20 years, retiring in 1991.
A graveside service was held at Massie Creek Cemetery in Cedarville on Monday, Feb. 8. In lieu of flowers, contributions can be made in her memory to Clifton United Presbyterian Church, 183 Jackson St., Clifton, Ohio 45316, or Hospice of Dayton, 324 Wilmington Ave., Dayton, Ohio 45420.
The family would like to extend its gratitude to the staff of Friends Care Center for their many years of caring for Virginia, with special thanks to Kent Little.
Condolences may be expressed to her family by visiting http://www.jacksonlytle.com.