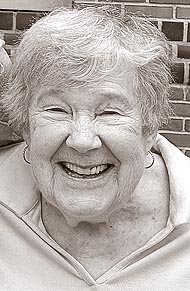 Donna Carol Cottrell died Feb. 4, 2021, at the age of 84. She was born in Quincy, Ill., on Sept. 25, 1936, to Maxine and Carl Cottrell.
Donna is remembered as the beloved of James Parker, with whom she brought four children into the world. Donna and Jim moved from the Fairborn, Ohio, area to Yellow Springs in 1974 so that their kids could continue their education at Antioch School.
They quickly came to embrace the village, where Donna worked for the Chamber of Commerce in helping to make the annual sidewalk sale into what we know now as the biannual Street Fair. She served on various boards and committees, including the Yellow Springs School Board and a fundraising committee for the Friends Care Center. In later years, she volunteered at the YS Senior Center.
Another important aspect of her life in YS was the Unitarian Fellowship, where she found a supportive and spiritually diverse community. These friendships provided an important sense of belonging that lasted through her years here. She felt that knowledge is power, and went back to finish her bachelor's program at Wright State University in 1987 with a degree in political science.
She is remembered for her dedication to women's rights and participating in marches for equality and consciousness-raising groups and educational activities. A poster stating "A Woman's place is in the House and the Senate" and a sash worn during the national ERA march from 1980 remain hanging in the basement, reflecting her philosophy. In later years, she reclaimed her birth name, symbolizing her own liberation.
We can't reflect on Donna without also thinking of her in the garden, weeding and planting flowers that transformed the backyard into a place of color and beauty. She loved scrapbooking and playing tennis and racquetball in earlier years. Her superpowers included being a great listener, organizing, speaking out and making family and strangers feel cared for.
She is survived by her brother, Max Cottrell (Bonnie); sons, Bruce Parker (Sandy Parker) and Brad Parker (Jenny Greenlee); daughter, Lisa Parker; and her six grandkids and nine great-grandkids.
In lieu of flowers, send donations to the Yellow Springs Senior Center.
A memorial service is being planned for June; the community will be notified when the date, time and place are established.