Elizabeth Anne 'Bethany' Navin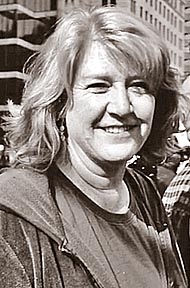 Bethany passed away at her home on Jan. 18, 2021. Born in Columbus, and after a life of travel and many homes, Bethany moved to Yellow Springs in the summer of 2019. Last summer she bought a home in Yellow Springs. She was painting and remodeling and was very excited about it. She was looking forward to having people over after COVID. She played pickleball and bridge at the Senior Center and worked out at the Wellness Center. She worked at TCN in Xenia.
Bethany was always honest, polite, considerate, tender-hearted and a lot of fun. She volunteered at many organizations throughout her life, most recently at 4 Paws for Ability and the Yellow Springs Senior Center.
Bethany is survived by her stepfather, Hugh Schultz; brother, Brett; sisters, Colleen Baumeister (John) and Emily Prieto (Tom); aunt, Marilyn Freshour; nephews, Max Monast, Garrett Monast (Holly), Pete Monast (Carlie) and Duke Brady; niece, Rachel Brady; and many friends. She was preceded in death by her father, Paul J. Navin, and all her grandparents. Her mother, Dana Navin, passed away on Jan. 26, 2021.
Although Bethany had not lived in Yellow Springs long, she had made many friends. She was a valued member of the Yellow Springs community and will be missed.
Donations in Bethany's name can be made to 4 Paws for Ability (Xenia) or the Yellow Springs Senior Center.