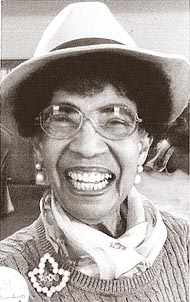 Surrounded by her loving family, Geraldine "GG/GG" Garner's homegoing took place on Jan. 21, 2021. She was 95.
Born in Washington, D.C., on April 3, 1925, to Lacey Ruth Williams and Edward Hall, Geraldine's life roles were many: loving wife, mother, grandmother, great-grandmother, college graduate, educator, professional volunteer, writer, leader, soror, church member, world traveler, lover of humanity and lover of God and His natural world.
Geraldine was preceded in death by her parents, Ruth Young and Edward Hall; daughter, Adrian Ruth; and sister, Donnie Mae Hall. She leaves her husband of 71 years, Dr. Albert Y. Garner; daughters, Linda (William) Wright, Christina (Bryan) Ferguson and Edwina (Nathan) Graham; son, Albert G. (Cheryl) Garner; grandchildren, Paul (Amy) Edgar, Gary Carroll, Gerald Carroll, Steven (Rachel) Garner, Gregory (Cristina) Carroll, Lindley Graham, Malcolm Graham and David Edgar; great-grandchildren, Isabella, Madelynn and Ethan; sister, Conchita Barbara Boddie; and a host of relatives and friends, who will all cherish the memory of her creative, loving spirit.
Visitation was held on Monday, Feb. 1, 2021, at Henderson's Funeral Home in Springfield, Mass., followed by private services. Internment at Veteran's Memorial Cemetery.
Flowers may be sent to Henderson's Funeral Home; donations may be made in Geraldine's honor to the Yellow Springs Library Association, St. John's Congregational Church Scholarship Fund, Girl Scouts of Central and Western MA, and the scholarship fund of Community Enrichment, Inc. of Xi Xi Omega Chapter, Alpha Kappa Alpha Sorority Inc., Springfield, MA.
To read the complete obituary, view the service online via Zoom and offer condolences, visit hendersonsfh.com.