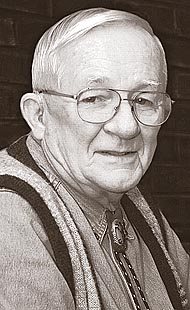 On Feb. 6, 2021, James P. Rose left this world for what he called his next "Great Adventure." "Jim," as he was known to friends and family, led a wonderful life and is missed by everyone who knew him.
Will Rogers once famously said, "I never met a man I didn't like." Jim lived that daily. Jim often said when he woke up each day, he would decide what mood to be in, and always chose "grateful."
Growing up in Waterford, Conn., Jim was the eldest of three sons of puppeteers Rufus and Margo Rose. Jim acquired his love for puppets at an early age, literally teething on wooden parts his parents carved. Jim toured the country doing shows with his parents during and after WWII.
In 2007, the Yellow Springs News ran a story on his seven-decade career as a puppeteer, featuring him in his shop working on puppets. The article noted that his love for puppets was evidenced by an "Antioch College Puppet Theater Department" sign above his fireplace. Jim loved nothing more than performing and teaching puppetry, especially at the annual Eugene O'Neill Puppetry Conference in Connecticut. Jim was a long-standing member of the Puppeteers of America.
Jim, like his father, attended Antioch College, and later returned to Yellow Springs to teach for many years in Antioch College's Theatre Department. Jim lived in Yellow Springs for over 50 years, volunteering as a youth soccer time-keeper, performing plays at Center Stage and singing in the church choir. Jim was ever-present at local celebrations with his signature puppet, Pepito, whom the Rose family joked was his "second son."
Jim is survived by his loving wife of over 40 years, Judy Rose; his children, Duncan (Holly), Meggin (Al Davidoff) and Kirsten Rose; stepdaughters, Lisa Russell, Laura Russell (Shirley Cummins) and Linda Bankston (David); brothers, Rufus (Reece) and Christopher (Rosemarie) Rose; grandchildren, Iris Packman, Brittany and Courtney Bankston, Sam Rose-Davidoff and Alexandria Boyer; three great-grandchildren; and nine nieces and nephews.
A celebration of life memorial service will be scheduled by the family at a later date.